Cheat Novoline for Minecraft 1.8.8 – The long – awaited drain of this client pleased so many cheaters. The client is certainly very good, because it has everything that Cheater needs: many functions, byputs and a unique design. In many cheats, the developers tried to make an unusual GUI manner, but few did it. In this Cheat, the GUI manager came out quite successful, but not for all cheaters it will be convenient.
Appearance
Main menu
Plum of this client has some flaws, which affected the main menu. The menu itself has been made very well: an excellent design and a suitable style of tabs, but there are also minuses. First, strange inscriptions in the upper left corner. Perhaps this is just part of the design and so conceived, but most likely it is a client's shortage. Also, in the upper right corner there is an affordable tab "T"Where you will not find anything. There is in Cheat Alt Repository (most cheats are called Alt Manager). In it you can change the nickname and add a license. The problem of this functionality is that it is quite difficult to figure it out. To add a nickname list, you need to go to section "Add"Write a nickname there, then choose"Add Alt". If you need to go to the nickname once, then you need to go to the section "Direct Login"Where to write a nickname and confirm it by clicking on"Login".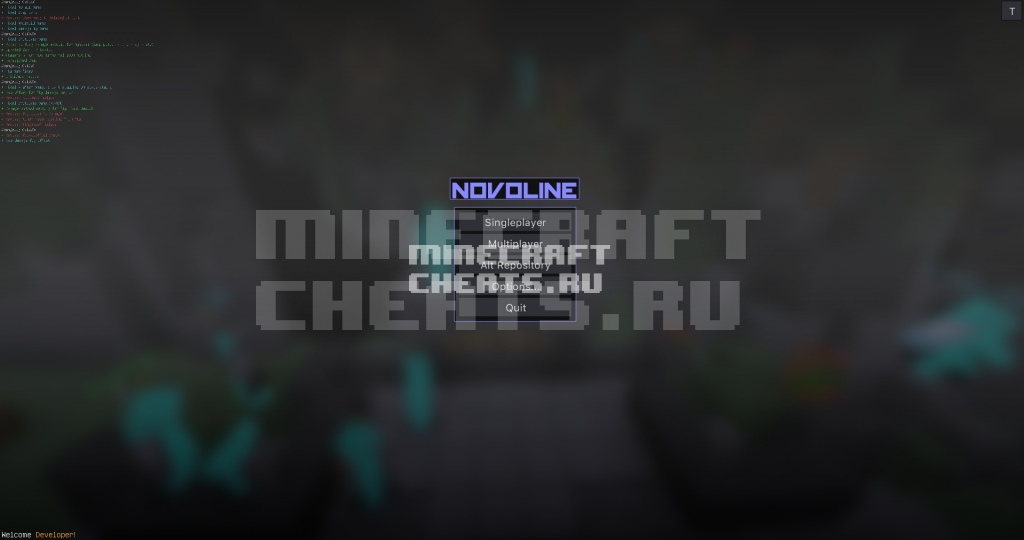 Gui – Men
Gui – manu, as mentioned above, is the main feature of this client. It opens with the RSHift key (right shift). Gui – Men is a square – shaped tab, where there are 5 sections. In each of the sections there are functions, and on the right side of the menu, the settings of functions are opened. This will seem inconvenient for many players, because you can not open all the tabs at once. The same applies to settings: you can only open the settings of one function. Even if you get used to this design, another problem appears: all the functions of the tabs do not fit, so the tabs can be scroll through down. All these shortcomings make the game not very convenient, but, I think that this Cheat has more advantages.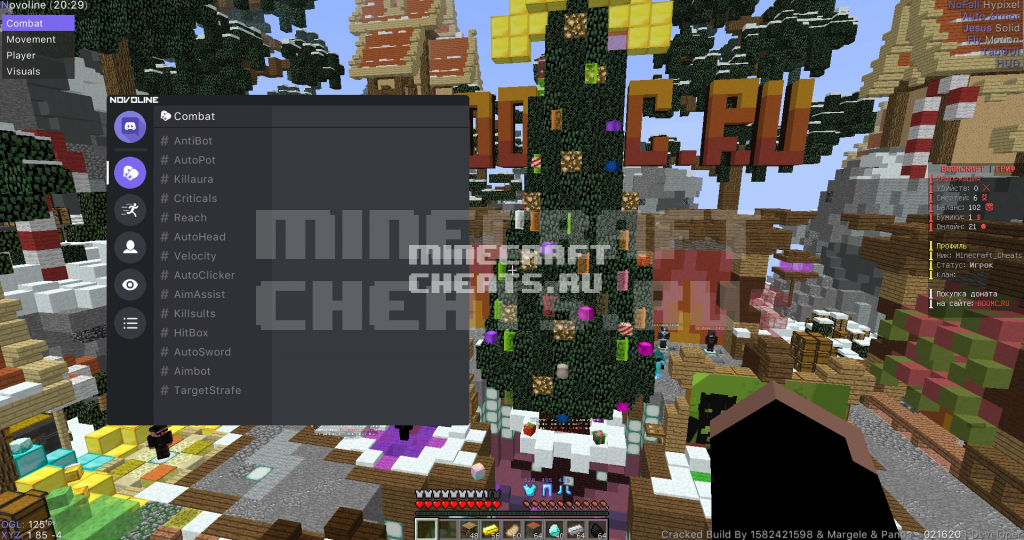 Functionality
Functionality is a huge plus of a client. Novoline has a large number of functions, and almost every function has its own settings, which allows you to configure the client for almost any anti. We will analyze some functions of this client:
STEP – You automatically bounce if you have a block on your way (it can climb 2 – 4 blocks);
Spider – allows you to climb the walls, as if there is a staircase or vine on them;
Playeresp – highlights the skins of the players so that they can be seen through the blocks;
Fastplace – using this function, you can put blocks 3 – 4 times faster;
Nofall – You will not receive damage when falling (works in the anti – AAS);
Timer – accelerates or slows down time for the player;
BowAimbot – automatically aim from onions;
Jesus – allows you to walk and jump on the water;
Airjump – You can jump in the air;
How to install a novoline cheat on Minecraft 1.8.8:
1. Download and unpack the archive using the Winrar or ZIP program;
2. If you have an open Minecraft, it must be closed;
3. Click Start, In the search bar, enter %Appdata %/.Minecraft/Versions;
4. If you do not have such a folder, then it must be created;
5. Transfer the file .jar with a replacement Close all windows;
6. Enter the entrance to the Minecraft, select a profile called Novoline in the settings;
7. Save it and after entering this profile
Download cheat novoline for Minecraft 1.8.8