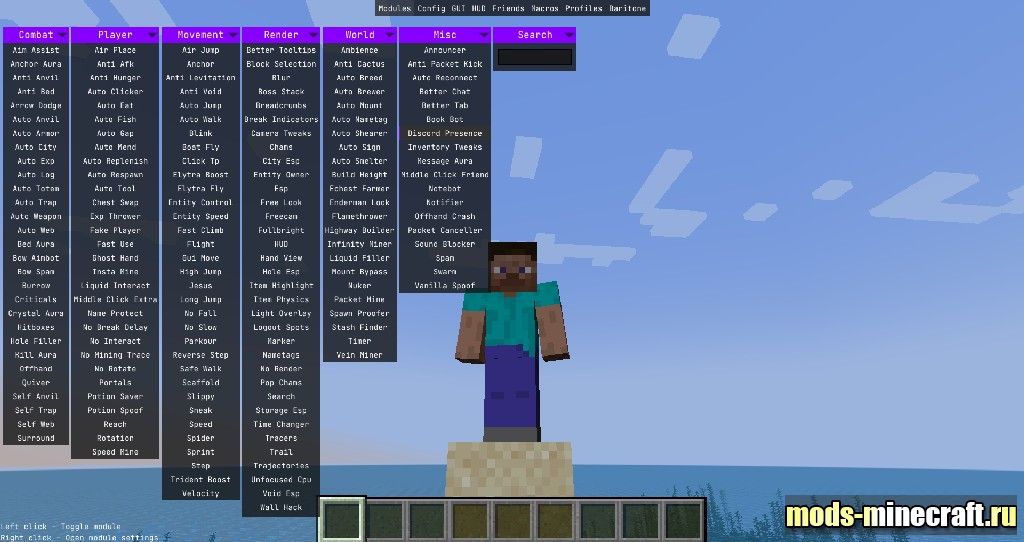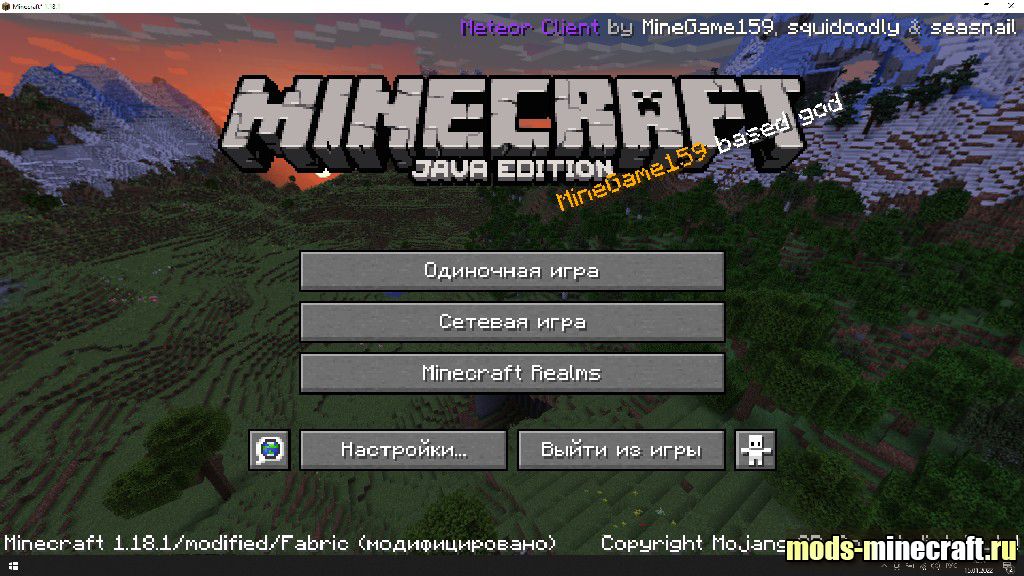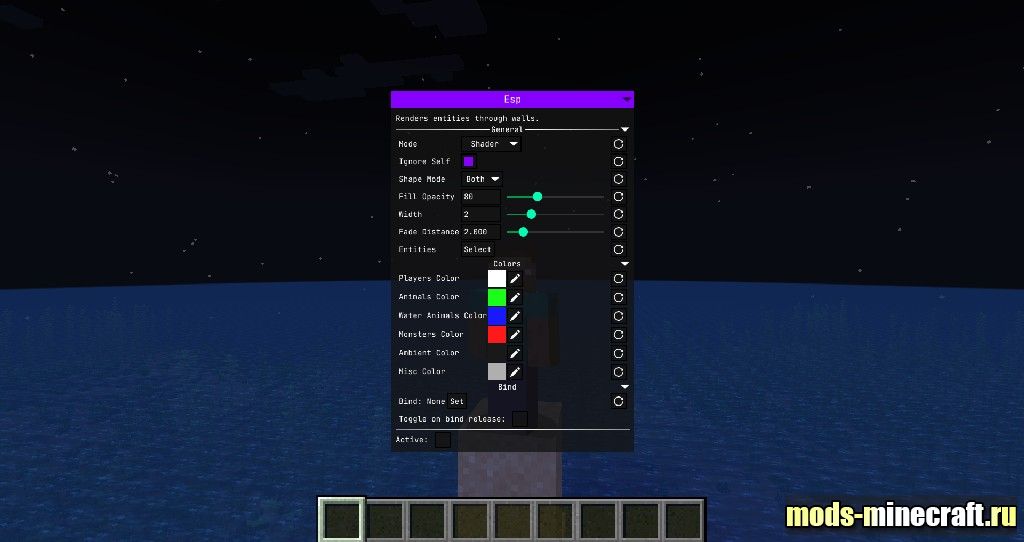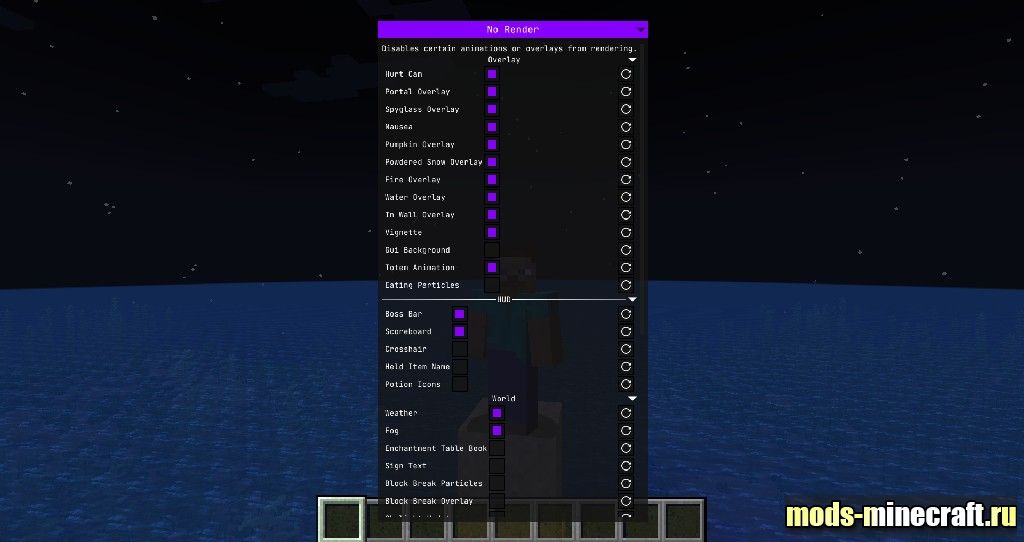 MeteorClient is new, advanced cheats for Minecraft with more than 170 unique functions that give a huge advantage on PVP, allow us to find valuable ores with an X – ray, fly without creativity, is quickly built and much more.
The graphic interface of Meteor Client, extremely simple and understandable, is easy to configure with one click of the button. In order to enable cheats in the game, click the right Shift, to activate the reading, click the left click, to configure the right click. In addition, the Baritone bot, which is controlled by the teams to watch the commands, lead /Baritone Help in the cheat.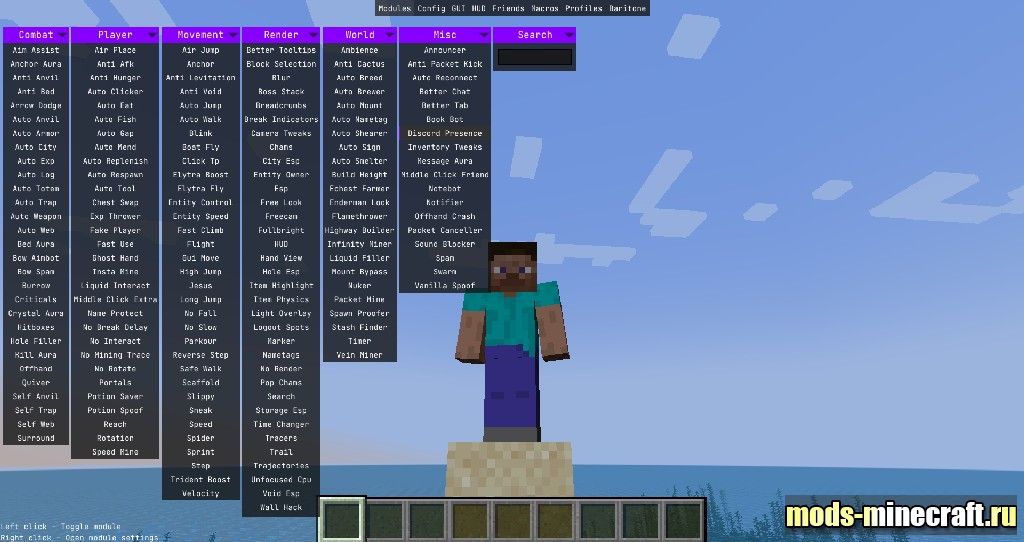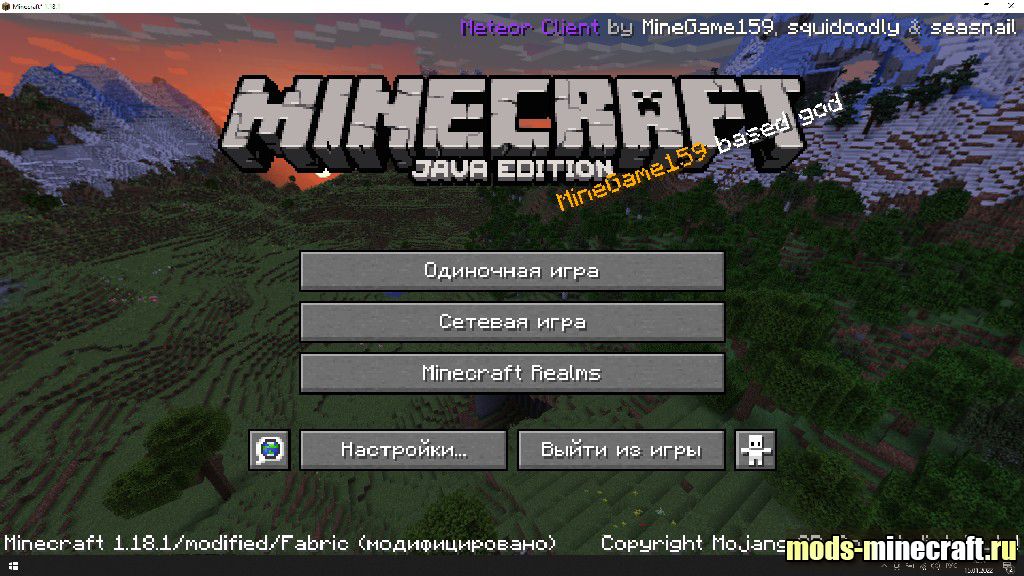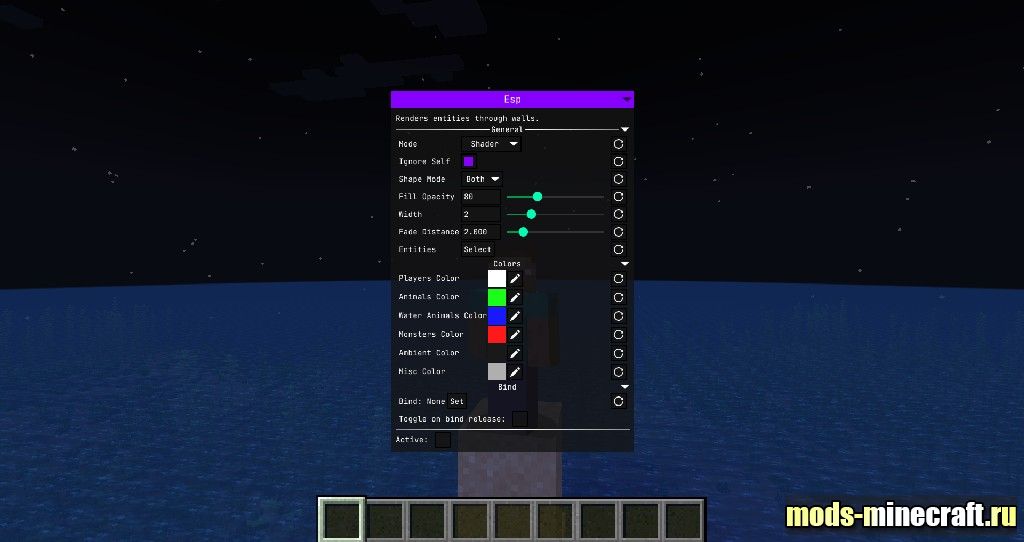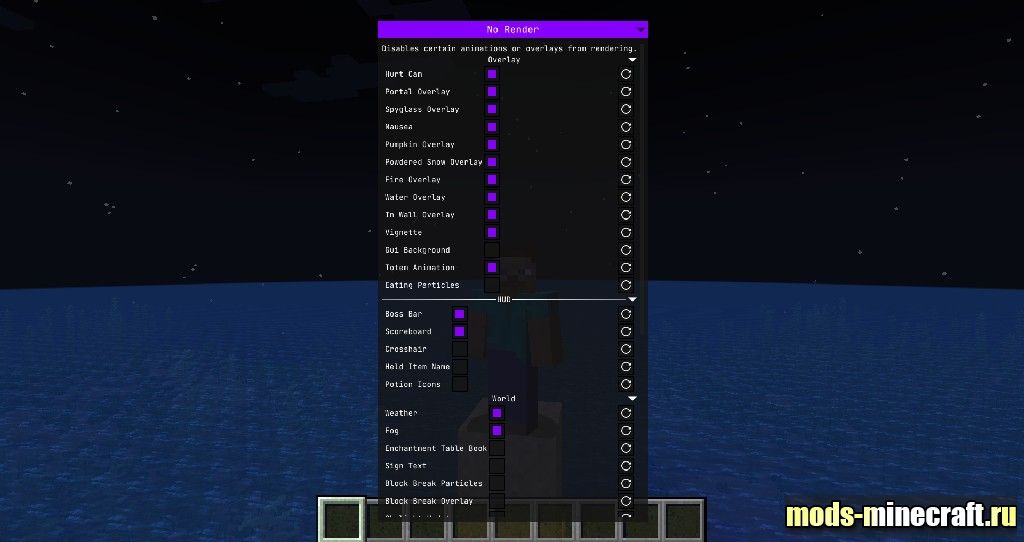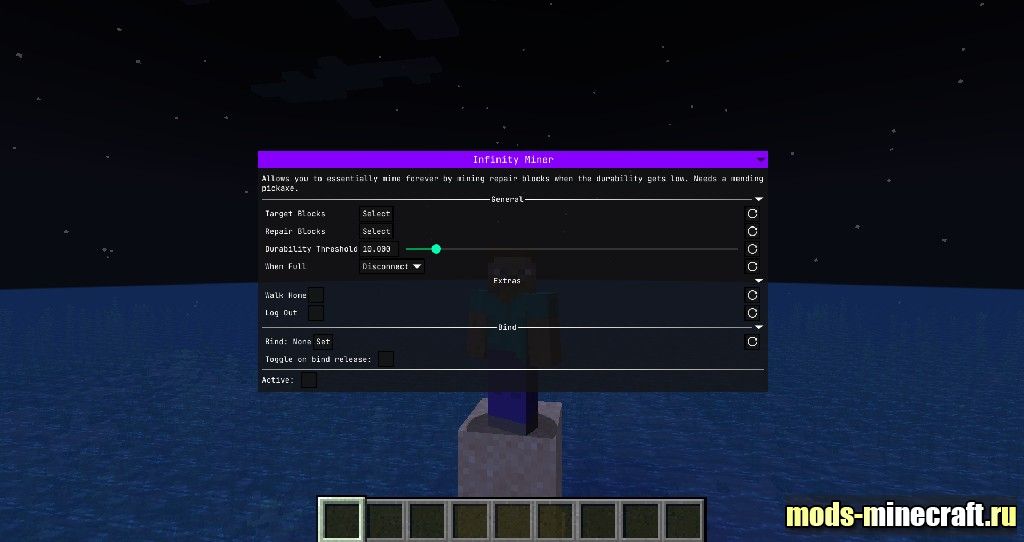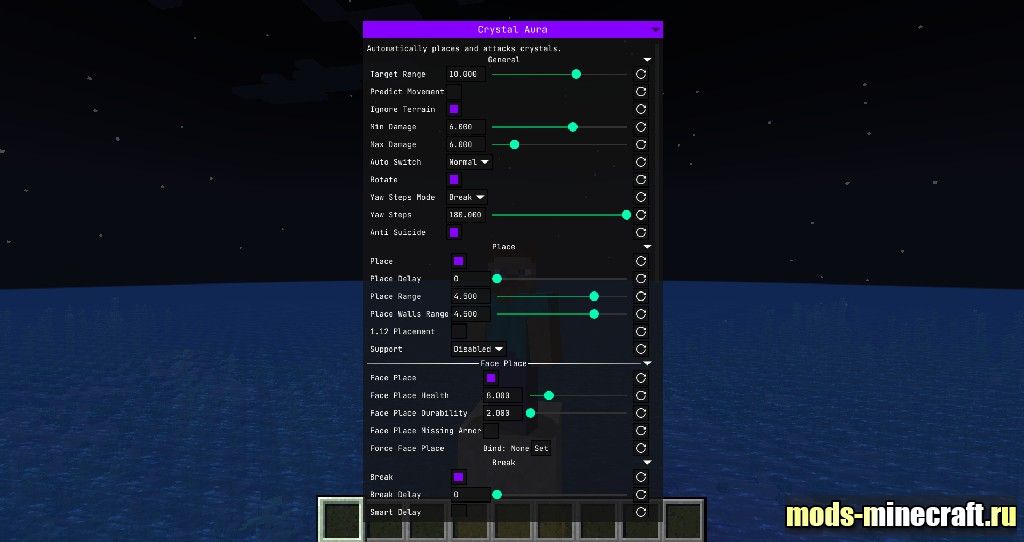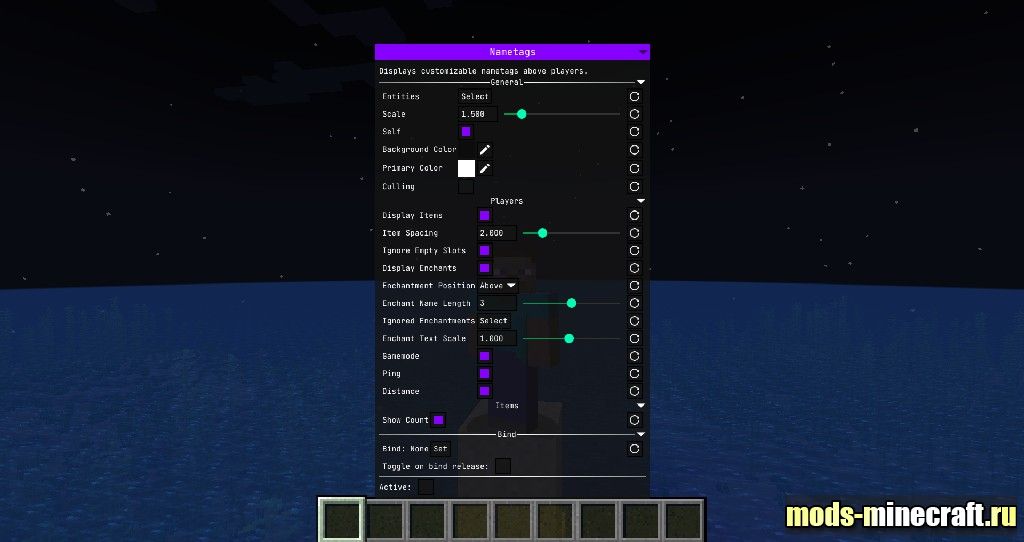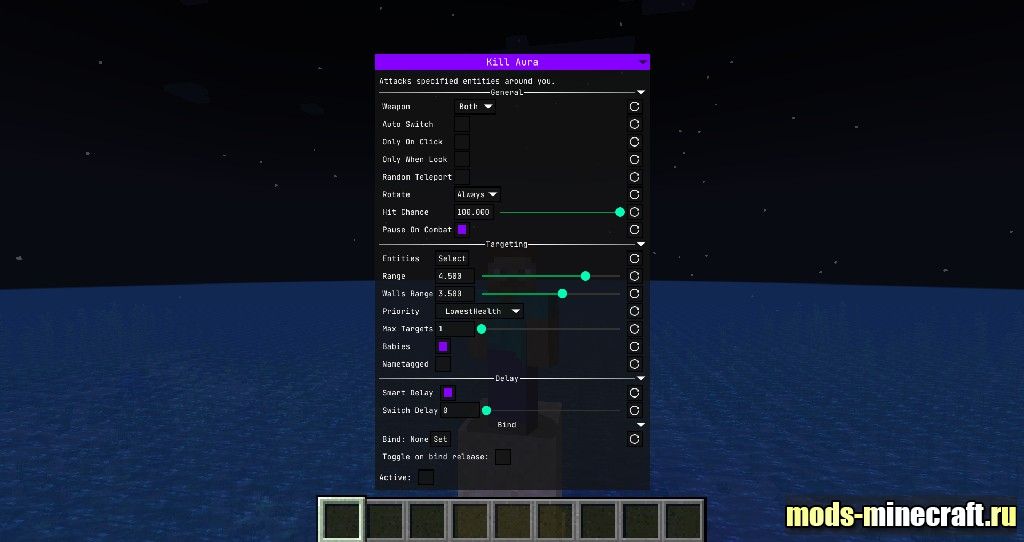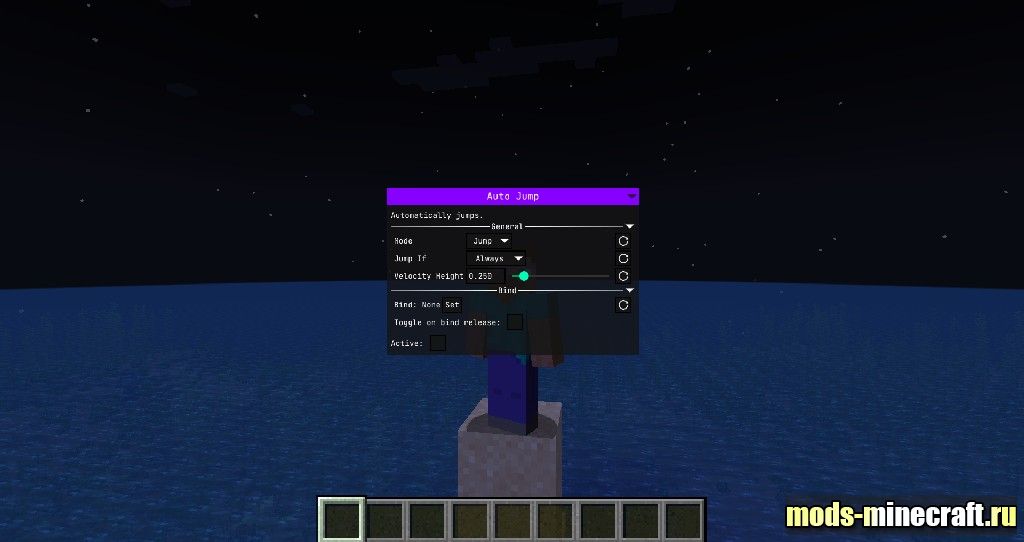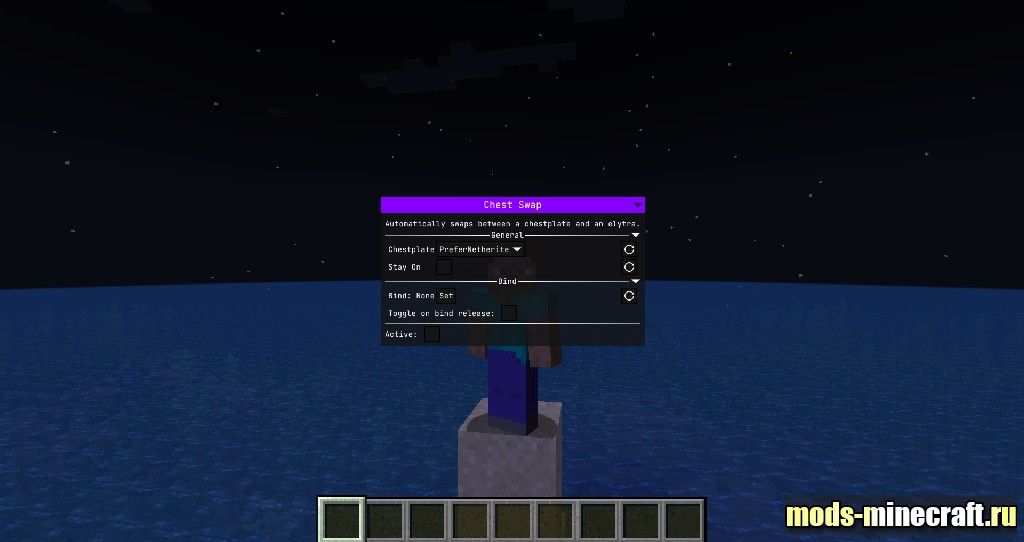 Description of cheats in Russian
All cheats are divided into categories, have additional settings and descriptions of English. Therefore, for the convenience of using the Cheat MeteorClient, we transferred them into English.
Combat category includes cheats:
AIM Assist – a multifunctional auto – limit, has a wide range of settings, allows you to aim at the body, head, legs.
Anchor aura – anchor for revival.
Anti Anvil – reduces the damage from the anvil.
Anti Bed – protects from damage to the bed.
Arrow Dodge – Barrier from arrows.
Auto Anvil – reset an anvil on the nearest player.
Auto Armor – Auto Putting armor.
Auto City – Auto Obsidian Premium.
Auto log – auto emission from the server when low health.
Auto Totem – Totem of Immortality.
Auto Trap – builds a trap for players and mobs.
Auto Weapon – Automatic Adding weapons to the hand.
Auto Web – a web trap.
Bed aura – puts a mined bed in the lower world.
Bow Aimbot – Auto Contract for onions and crossbow.
Bow Spam – Auto Starting from onions.
Burrow – puts the player in the block.
Criticals – critical damage when attacking in a jump (double effect with Killauro turned on).
Crystal aura – Crystals Covishes.
HitBoxes – increases the zone of damage damage.
Hole Filter – Block Filler of Holes.
Kill Aura – Auto Click for PVP.
Offhand – shifting objects into the left hand to certain objects (shield, totem, etc.).
Quiver – Auto shooting with arrows with effects.
SELF Anvil – Obilow Her head.
SELF TRAP – builds around a protective wall of obsidian.
Self Web – throws a web under the feet.
Surround – puts an inventory around the player around the player.

The assembly of Player cheats includes:
Air Place – installation of the block in the air.
Anti Afk – a ban on a kick from a server due to a long AFC.
Anti Hunger – reduces hunger.
Auto Clickker – car cobbler generator.
Auto EAT – Food with critical exhaustion.
Auto Fish – Avtolov Pisces.
Auto Gap – eating enchanted gold apples at the end of the effect.
Auto Mend – before the breakdown, replaces items with new.
Auto Replenish – replenishes the hotbar.
Auto Tool – replacing the tool before its breakdown.
Chest Swap – Bibrant Bosso Automobiles on the Eltra.
Exp Thrower – discharge of bottles with experience under the feet.
Fake Player – calls a fake player.
FAST USE – Acceleration of time.
Ghost Hand – opening of chests through the walls.
Insta Mine – rapid destruction of blocks.
Liquid Interact – installing the water block, lava and other liquid.
Middle Click Extra – Middle Mouse Bind (clip pressing).
Name Protect – hides Nick.
No Break Delay – accelerates the destruction of blocks.
No Interact – black list of interaction with blocks and entities.
No mining Trace – blows through mobs.
No Rotate – blocking the automatic drive of the block.
Portals – Open GUI in the portal.
Potion Saver – Disaches the effects of potions.
Potion SPOOF – Potion effects.
Reach – long hands, allows you to damage at a distance, also works when mining ress.
Rotation – Auto Building of the look.
Speed Mine – you can break blocks much faster.
Cheats of the Movement section, include cheating functions related to movement:
Air Jump – Double Air Jump.
Anchor – jumping into a narrow hole in 1 block.
Anti Levitation – Disaches the effects of levitation.
Anti Void – prevents falling into the void.
Auto Jump – Auto jumper.
Auto Walk – Auto Rogy.
Blink – Teleport.
Boat Fly – Board flights.
Click TP – teleportation in the direction of the look (PKM).
Elytra Boost – Acceleration during a flight on an elite without fireworks.
Elytra Fly – improves flight flight management.
Entity Control – driving mobs without a saddle.
Entity Speed – acceleration when driving by mobs.
Fast Climb – Fast climbing stairs.
Flight – fly without creativity.
Gui Move – Walking with open equipment.
High Jump – High jump.
Jesus – Walking on the water.
Long Jump – Long Jump.
No Fall – allows you to stand on the edge of any block as much as possible.
No Slow – disables a deceleration of archery.
Parkour – Automatic calculation of jumps when passing Parkuru.
Reverse STEP – Quick descent without damage.
Safe Walk – There is no fall from the edge of the block.
Scaffold – AutoBlok under the feet.
Slippy – slippery blocks with ice physics.
Sneak – squat mode.
Speed – quick movement.
Spider – climb the walls.
Sprint – AutoCprint.
STEP – Auto Lift for blocks.
Trident Boost – Trident.
Velocity – Rock, does not allow the enemy to move you off.
The Render cheats block contains such cheats as:
Better Tooltips – the right clues.
Block Selection – Block Selection.
Blur – blur tuning.
Boss stack – combines boss bars.
B caredcrumbs – movement line.
Break Indocators – Destruction indicator.
Camera Tweaks – 3rd face view, including settings.
Chams – allocation of entities.
City ESP – for the game City, shows a block that can be broken.
Entity Owner – points to the owner of the pet.
ESP – shows the presence of a mob through the walls.
Free look – 180 degrees.
Freecam – Free Camera.
Fullbright – dynamic brightness.
HUD – all information on the screen.
Hand View – setting up the type of object in the hand (reduce, turn).
Hole ESP – displays safe holes in the obsidian and in the indigenous rock.
Item Highlight – allows you to highlight blocks and items in the inventory.
Item Physics – realistically lying objects on Earth.
Light Overlay – shows the level of lighting.
Logout Spots – opens a window with players display.
Marker – holograms for certain coordinates.
Nametags – make notes above the nicknames of players.
No Render – Disable Renders (animation, particles, weather).
Pop Chams – shows where the totem of immortality was used.
Search – New Xray, has many settings.
Storage ESP – backlighting chests.
Time Changer – quickly change the time.
Tracers – tracer rays for players and mobs.
Trail – light effects.
Trajectories – shows the future flight path of objects.
Unfocused CPU – reduces the load.
VOID ESP – Holes in the final thigh.
Wall Hack – allows you to make blocks translucent.
World – here are cheats related to the world, animals, mobs and objects:
Ambience – a change of the surrounding atmosphere of the game (colors, shades).
Anti Cactus – Cactus Protection.
Auto Breed – Animal Auto Fer farm.
Auto Brewer – Authority of Potions.
Auto Mount – andquot;Cruise controlandquot; Mobs driving.
Auto Nametag – Give Moba Name without Birka.
Auto Shearer – Auto Stroll of sheep.
Auto Sign – Text on the signs.
Auto Smelter – Automated for ore.
Build Height – Removes Construction Limit.
Echest Farmer – automatically puts and breaks the ender of chests (cheat for the pharmacy of obsidian).
Enderman Look – Enderman Protection.
Flamethrower – Mob sets on fire.
Highway Builder – Fast Road Construction.
Infinity miner – cheat for resource production.
Liquid Filler – fast water laying with blocks.
Mount bypass – bypassing of hostile entities.
Nuker – automatically breaks and runs blocks.
Packet Mine – removes animation when mining blocks.
SPAM Proofer – Automatic installation of different blocks and objects on the map.
Stash Finder – Farmite Cups with chests and retains coordinates in the /Meteor – Client folder.
Timer – Cheat can accelerate and slow down the game.
Vein miner – mining of all ore core from one blow.
Cheats in the MISC section:
Announcer – allows you to send pre – prepared messages to the chat.
Anti Packet Kick – Protection from Kick at high ping.
Auto Reconnect – Autorobart.
Better Chat – Chat improvement.
Better Tab – Functional tab.
Book Bot – Auto Chop of Books.
Discord Pressence – Information in Discord.
Inventory Tweaks – functions for inventory.
Message aura – sending to the closest players chat.
Middle Click Friend – adds/deleting players as friends.
Notebot – musical instrument.
Notifier – displays a notification of different events.
Offhand Crash – crash games due to some actions.
Packet Canceller – Attempts to bypass anticheatis.
Sound Blocker – Sounds Disabling.
Spam – spam chat.
Swarm is a way to track places where you often come.
TPS SYNC – TPS synchronization with server.
Vanilla Spouof – enter the vanilla server modified by a client.
How to install MeteorClient
Install Fabric
Download cheats
Open the MODS folder or click the Win + R key, insert %Appdata %\.Minecraft \ mods click ok
Without unpacking to move the downloaded file to the opened window folder with mods
Run the game and play!

Download Meteorclient
For 1.19.1