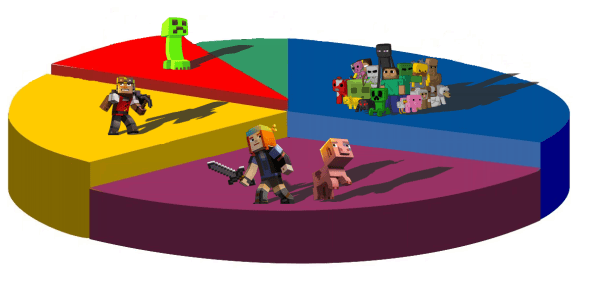 Hello, in this guide we will try to tell you how to promote the Minecraft server. You already have your own Minecraft server and you want to attract as many players as possible there as possible?
In this case, this information is for you. Raising the online new Minecraft server is not the easiest task, but there are many ways to solve this problem.
Here are a few recommendations, what needs to be done for successful promotion:
1. Try to ensure that the server work with popular versions. At the moment (2016) are: 1.5.2, 1.8.x, 1.I
2. Be sure to create a website of your server. Where to post the news, general information about the project. Contacts, methods of donat (if any) and other useful information.
3. Come up with a slogan and style for your project, for recognition in the future.
4. Create groups on social networks. If the server is Russian – speaking, then it is mandatory in VK. Where you carry out values of valuable prizes and various shares.
5. You can try to give a server advertisement on popular Minecraft channels YouTube.
6. Do not save the address of your server on forums and on social networks. Users do not like spam, and hardly become interested in your project.
7. Tell all your friends about your server and ask them to tell you.
8. Do not allow the server downtime, place it at high – quality hosting, with an aircraft 99%.
I. Administer, modify the server, improve its quality constantly. This will hold the players and increase confidence.
Fulfillment of these recommendations is guaranteed to give a powerful impetus to promote the project.
Do not forget, that your server should be interesting for players. Now many are looking for entertainment on the server. According to monitoring statistics, people most often look for servers with mini – players.
Be sure to add the following mini games to the server:
– Hide and seek (hide and seek); The meaning of this game is that players are divided into two teams: those who hide. And those who are looking. If during the allocated time they did not find and did not kill, they win. And vice versa
– Hunger Games (Hunger Games) – Survive at any cost.
– Parkour, where you will have to jump on blocks and do not fall into the abyss.
– Splif Arena. The task of the players is to throw off the opponents, and to remain the last in the arena himself, and do not fall.
But the fastest and simpleest way of promotion is monitoring of Minecraft servers.
Such sites are lists, tables where the Minecraft servers are located.
We will figure out how it works on the example of one of the most popular monitoring –
servers Minecraft Minecraft – monitor.RU
To get into such a rating, just register your server in monitoring and it will immediately appear on the list. Monitoring provides many free opportunities for promotion.
You can place a banner on the voting page for your server on your site and motivate players vote for it. The higher the rating in monitoring, the higher your server will rise from the list.
Or send the administration a request for a video of the video from YouTube about your server on the monitoring page. The video is located free of charge. Automatic status bars for signatures on forums (which will not look like spam we warned about earlier),
And he will be able to really attract players.
There is the possibility of very fast promotion and on a paid basis, although this is not necessary, but very effective. Promo points (VPS – VIP Points), which instantly take the server to the top to any monitoring position. Including the first 🙂
In the compartment with popularity and very high attendance (from 15,000 to 30,000 views per day) of the server, which are on top positions – are filled with players as soon as possible.
By the way, If you are not yet ready to create your own server, or you don't have enough skills, you can look at the already working Minecraft in monitoring, choose your favorite
and agree or acquire an administrator's rights to this server, play and gain experience as a co – owner of the project.
We hope this information was useful for you, successful promotion of your projects!