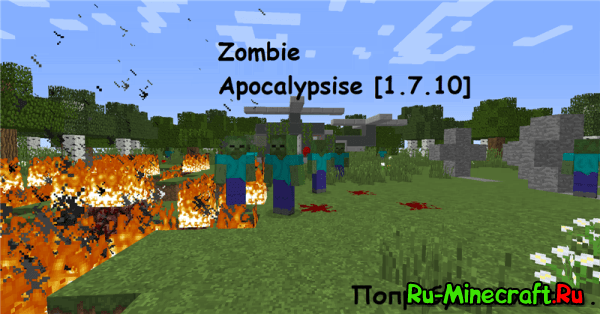 Zombie Apocalypse… Try to survive!
This is my first work with clients for Minecraft.

This client turns your game into a real zombie apocalypse! It costs 10 – 15 mods that will make life in Minecraft more complicated and more fun! So the client is built – in modifice FaithFul

1. Forge – needed to work many mods.
2. BSPKRSCORE – Supplement for mods.
3. Armorsstatushud – see how much to live your equipment!
4. CustomNPC – Create your mercenary for the Earth's block!
5. Cracked Zombies – Zombies now live in the afternoon!
6. Dynamic Lights – Now the torch glows in the hand!
7. Flan's Mod – technology and weapons!
There are additions: Modern Weapons Pack, Simple Parts.
8. Hardcore Darkness – terribly dark at night!
9. Grappling Hook – Cross through a flock of zombies using a hook – cat!
10. Rei's minimap – You can't get lost without a card!
eleven. Mob amputation – dissect!
12. Backpacks – backpacks!
13. ichunutil – auxiliary mod
14. Optifine – + to FPS!
15. Shader Mod – Shaders! (Install the shaderpaks yourself)

Weapons have their own skins!
Backpacks with modified FaithFul
Darkness.

Download the archive.
Open %Appdata %.
We throw all the files from the archive in .Minecraft
Open Minecraft.exe, log in, play!
If you have a pirate, just start a pirate launcher and make according to the instructions.
From the site server
Mirrors Download with me.Disk| Download with cloud.Mail
Thanks for the client's jump!