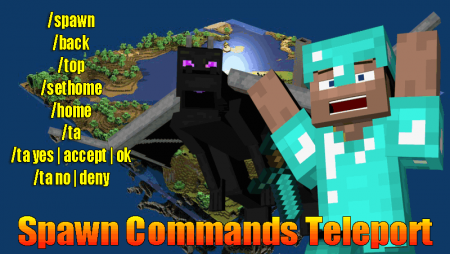 Description
SPAWN CommANDS TelePort adds The team of Spawn And the main ones server commands, Allows players to teleport to the main spawn, to their home, according to the coordinates of the players and other marked points on the map.Spawn Commands Teleport 1.12.2 1.eleven.2 1.10.2 1.7.10 Spawn Commands works on the server side and facilitates the movement of players in significant places.
Teams Spawn
/Spawn Help – leads all the commands of Spawn
/spawn – the team teleports to the main point of appearance on the server
/spawn+ MyLavabase – creates a named location andquot;MyLavabaseandquot; at your current point
/Spawn MyLavabase – transfer you to the place you specified andquot;MyLavabaseandquot;
/Spawns Displays – displays a list of all points
/Spawn – Henrysplas – deleys your location andquot;HenrySplaceandquot; from the list
/Spawn+ Enable – includes advanced commands on the server
/spawn+ disable – disconnects advanced commands
/ back – returns to the last point / death
/AWAY [andlt;Approximate distance in blocksandgt;] – teleports to this distance
/spawn+ @tradCenter – creates a public point with a name andquot;@Tradecenterandquot;
/up – teleports to the closest high point
/dn – teleports to the lower point
/top – sends you to the highest place where the eye is turned
/spawn+ bobislost – 123 65 42 – will create a point Bobislost and teleport you to it
/sethome – create a point at home
/Home – Fast teleport home
Teleport teams /Ta
/Ta Help – displays the list by commands /TA
/Ta Nick – permission for teleport to the player specified in the team
/ok – consent to teleport
/Ti Playername – call the player to himself
/ok – accept
/Ta Yes |Accept |OK – accepts a teleportation request within 45 seconds.
/Ta no |DENY – rejects a teleport request to you
/Ta Allow |DENY ALL – permits or rejects all requests within 45 seconds.
How to install Spawn Commands
Download mod
Install Minecraft Forge
Press the Win + R keys, insert %Appdata %\.Minecraft \ Mods
Move the downloaded file to the opening window
Run the game and play!

Download Spawn Commands
For 1.12.2