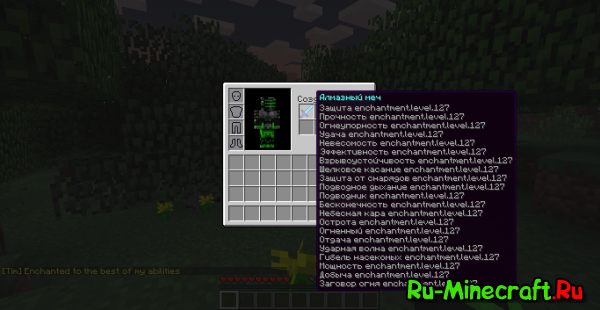 Background
Yesterday, when I was playing on the server, and I was given a set of diamond armor, which was all enchanted to defend 4, I wondered: andquot;Is there a plugin allowing to be enchanted to the desired parameter ?andquot; Well, I started looking, testing, checking plugins.And stumbled upon Tim The Enchanter, I liked the plugin, the teams are easily remembered.
Well, now about the plugin actually.
The plugin is good, worker. But there is one minus, as can be seen in the screenshot, an additional line of the fact that everything is enchanted using the plugin will be shown.I hide the commands under the spoiler, there are also Permissions (rights) teams
/enchant – captivates the item that you hold to the specified level. In this command you need to convey the name of the spell. For example, the team /Enchant Protect 3, charming the current item to the level of protection 3.
/enchant max – captivates the item that you hold to the maximum natural level. The maximum level is taken from the chart table (see. below). For example, the team /Enchant Sharpness Max will increase the accuracy of level 16.
/ENCHANT ALL – captivates all objects to the maximum level that you can charm (depending on Permission Enchanter.DIRTY
/Enchant All Natural – captivates all objects to the maximum available level in the game
Names of charm (without translation)
Protection: 0
Protect: 0
FireProtuction: 1
FireProtect: 1
Feather Falling: 2
Blastprotect: 3
Blastprotection: 3
ProjectileProtation: 4
ProjectileProtect: 4
Respiration: 5
Aquaaffinity: 6
Wateraffinity: 6
Sharpness: 16
Sharp: 16
Smite: 17
BaneOFARTHROPODS: 18
Knockback: 19
Fire Aspect: 20
Looting: 21
Loot: 21
Efficiency: 32
Efficient: 32
Silktouch: 33
Unbreaking: 34
Fortune: 35
Power: 48
Punch: 49
Flame: 50
Infinity: 51
Infinite: 51
Permissions
ENCHANTER.ENCHANT – allows or forbids to enforce objects
ENCHANTER.DIRTY – permits or forbids to enforce objects above the normal level (up to 127 levels)
ENCHANTER.RELOAD – allows or prohibits rebooting the list of charming names (or char).
: TIM.RAR [5.41 KB]
And remember, the pluses motivate the author to add new plugins