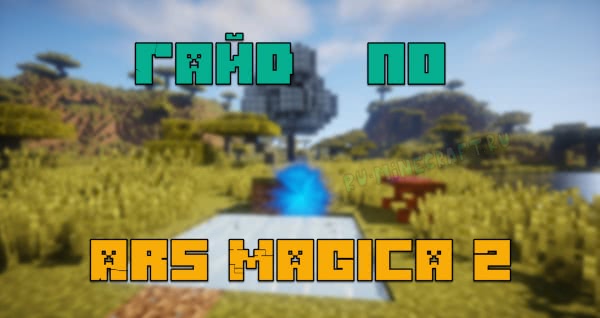 Ars Magica 2 – This is a large, global mod for magic with many different mechanics and capabilities, the mod is very interesting and popular, we have a Russifier of this mod on the site, but the foundations of the foundations will be told in this guide, shown on examples how to play and develop with this mod.
Generation of the world:
Now in the world to small lakes filled with new liquid – ether.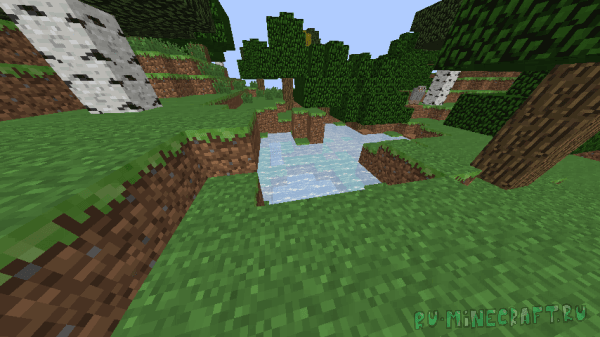 In the world you will find new types of colors, we will need them to create different components: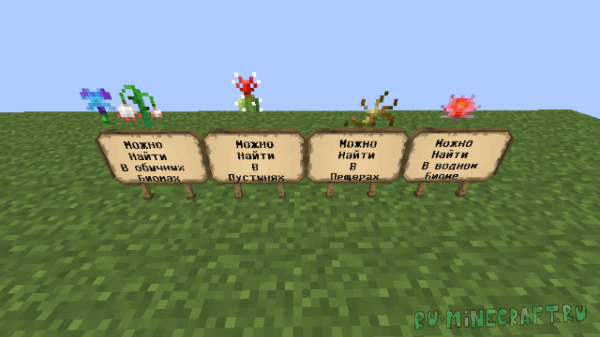 You can also meet witch trees, they will come in handy in the craft of spells and when creating an altar.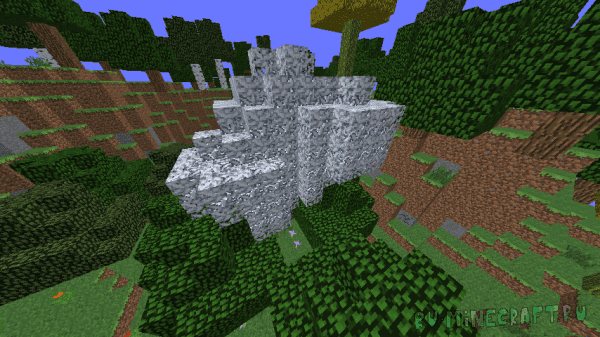 Fundamentals
Obtaining the first level of the magician:
We need to find a lake with ether and put a frame above it: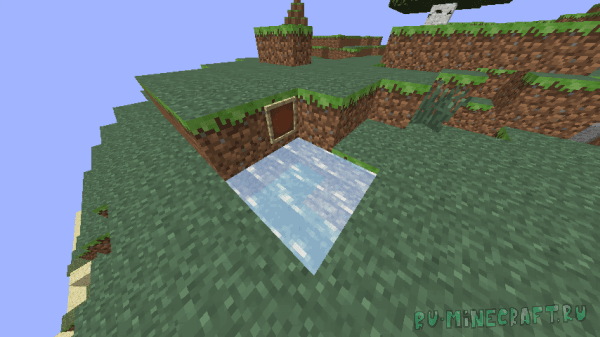 Next, put a regular game book in the frame: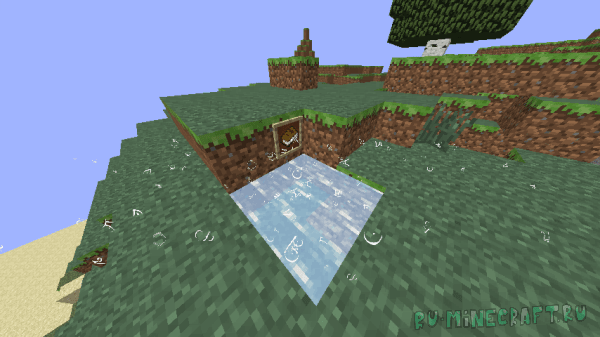 After some time, you will receive a book: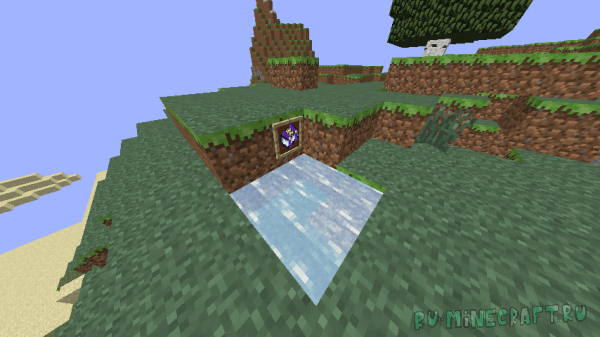 After you take the book you get the first level of the magician.
You will have indicators, level, mana, overheating.

Mana – Standard mana that is spent when creating spells.
Overheat – the higher overheating, the more mana is spent on the spell.
Both parameters themselves change values over time.
You can configure the display of these values /amuicfg
After receiving the first level of the magician, we need to create andquot;All – seeing eyeandquot;: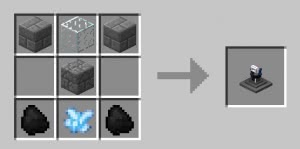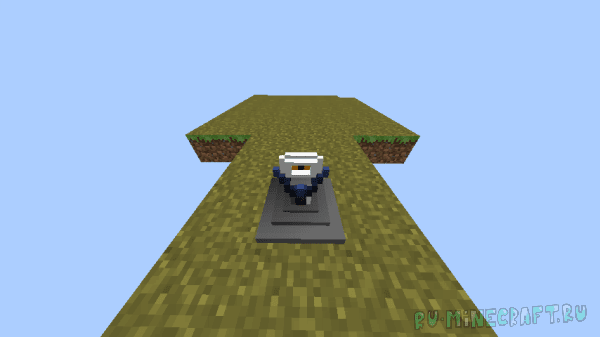 By opening it you will see: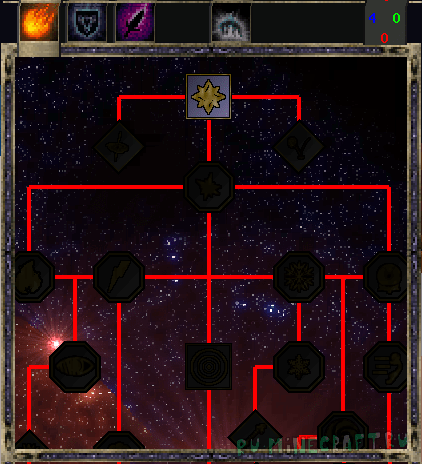 These are skills and spells that are in fashion, they are hidden and special glasses are needed to unlock them, you can see them in the upper right corner.
Skill glasses
There are four ways to get these glasses:
Level pump,
Search in dungeons (dungeons),
Buying from mug gnomes,
The murder of the bosses.
Blue glasses are given for pumping from 2 to level 20,
For pumping from 22 to 40 levels, green glasses are given,
For pumping from 42 to 50 levels, red glasses are given.
About the murder of bosses and a drop from them – read below.
Craft spells
Creating a receptor book for a spell.
We create a drawing table: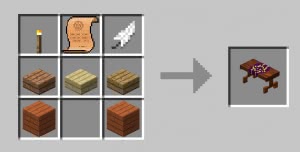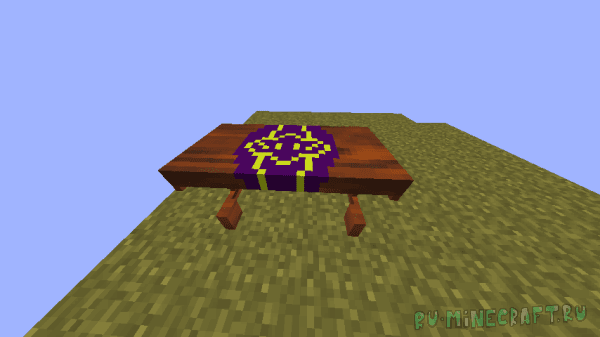 If you open it, you see: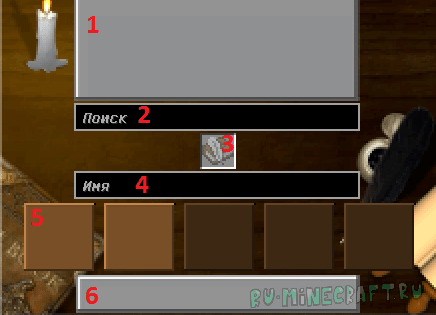 1) all available to you andquot;piecesandquot; spells.
2) place for andquot;soonandquot; search for a modifier by name.
3) a slot for a book with a pen (where our spell will be recorded)
4) a line for the name of our book for spells.
Next is the craft of the spell itself:
5) slots for the base of the spell (what it will do. T.e. For example, shoot (shell) or will beat the random (beam) and you can also add some modifiers here)
6) This is a slot for the spell itself (the most important part of it. For example, dig, or shoot physical damage)
We need to make a spell that will shoot physical damage, for this we need to put in a square Shell, and in the strip from below physical damage.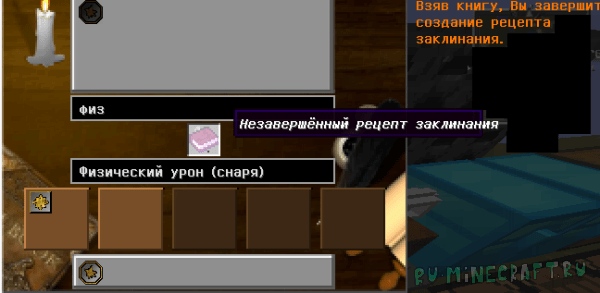 Take a book with a spell:

Altar and Craft spells:
Now we need to build an altar, this is a multi – block structure: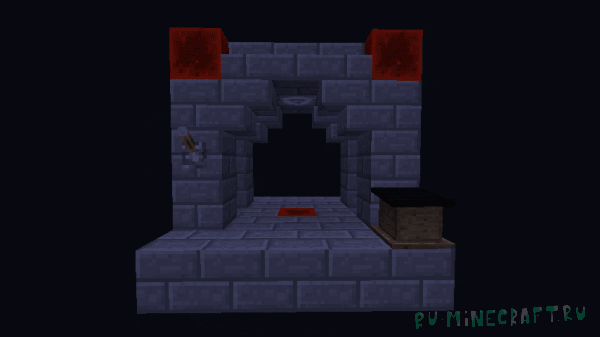 Components:
38 stone bricks,
6 magic walls,
1 altar of creation (block from above in the center)
12 steps made of stone brick,
5 blocks of Redstone,
1 lever,
1 analay
This is a simple and cheap altar that will fit only at the initial stages of the game.
This altar is suitable for creating spells from only 4 components.
Other elements for the altar:
The basis of the altar:
Wooden boards: + 1 element,
Stone bricks: + 1 element,
Sandstone: + 1 element,
Bricks: + 2 element,
Witch tree boards: + 2 element,
Hellish bricks: +3 element,
Quartz blocks: + 3 element.
Blocks in the corners and center of the altar:
Glass: + 1 element,
Coal blocks: + 2 element,
Red dust blocks: + 3 element,
Iron blocks: + 4 element,
Lazurit blocks: + 5 element,
Golden blocks: + 6 element,
Diamond blocks: + 7 element,
Emerald blocks: + 8 element,
Lunar stone blocks: + 9 element,
Sun stone blocks: +10 element.
Now we can start crafting the first spell:
We put a book with an anal spell and throw an empty rune in the center of the altar.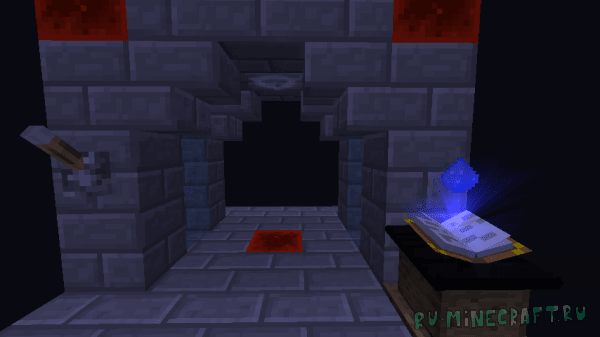 Now you need to throw all the components into the altar, the full list will be in the book on 2.3.4 pages.
After you all threw out, throw clean parchment.
Ready, choose any picture and come up with a name.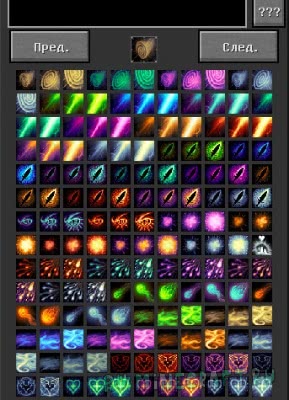 Talents
We gain experience by killing mobs or digging mines, copy to Level 5, In the all – seeing oka you will see talents.
We can improve mana recovery speed, ITD capacity.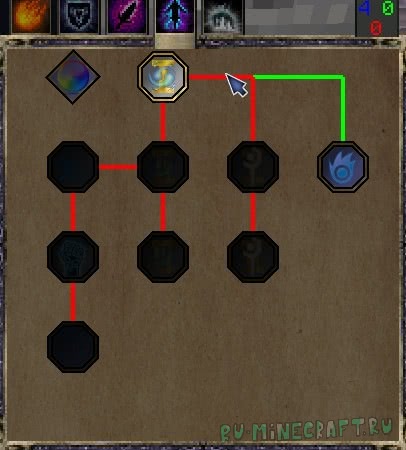 Kinship to the elements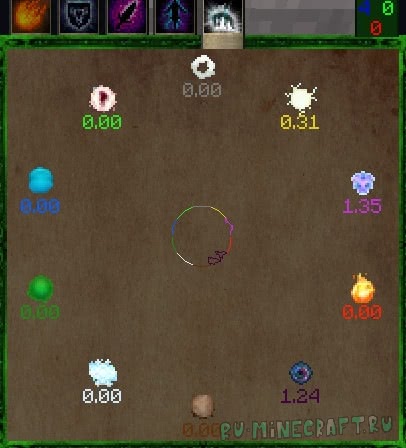 Description, clockwise on top:
Air.
Pros:
25% – Running acceleration,
50% – jumping one block above = 2 blocks, (you can fall from a height of 4 blocks)
75% – jumping two blocks higher (from standard) = 3 blocks, (you can fall from a height of 5 blocks)
100% – three blocks above (from the standard one block) = 4 blocks! (you can fall from 6 blocks)
Minuses:
In the rain/snow, you move slower and can andquot;fly offandquot; back. (To help you a spell of enhanced gravity)
Lightning.
Pros:
50% – constant acceleration of running, the ability to climb the block (as in traveler boots)
75% – fire – looking TNT, charged creepers who are nearby.
100% – when the monster hit with a fist, lightning will hit it.
Minuses:
50% – in the rain and snow, mana is very lost (quick sucking)
75% – maximum health in water = 6 hearts (hits current.)
100% – past andquot;Debafandquot; disappears, only mana is sucked in in the rain/snow.
Arcana.
Pros:
25% – discount on all spells = 5%
75% – there is a chance to get a buff andquot;Clarityandquot;, with which you can use any spell without mana.
Minuses:
Reduced protection against magic damage.
Fire.
Pros:
100% – 60% of damage less from fire
Minuses:
50% – getting damage from water (at least 75%)
Ender.
Pros:
50% – poisoning protection
75% – night vision
100% – enders will not attack the first.
Minuses:
50% – the maximum health in the light has been reduced, water causes damage
100% – these restrictions are removed.
Earth.
Pros:
50% – no damage is caused from falling
100% – lowering by 10%
Minuses:
50% – it is more difficult to surfed from the water.
Ice.
Pros:
50% – you freeze water
100% – lava contacts obsidian
Minuses:
50% – being not on ice, your speed below.
Nature.
Pros:
x% (unknown) – bonus to the drop of seeds and seedlings
50% – given andquot;Effectandquot; Spikes. The same increases the damage from the spikes (spell of armor)
100% – you can climb the walls like Spider – Man and slowly replenish hunger in the light.
Minuses:
50% – you begin to move more slowly
100% – additional damage from spikes disappears, at night or in dark places hunger is spent faster
Water.
Pros:
50% – swimming speed and duration of stay under water are increased.
100% – resistance to endermens, add.Damage to players from Atheny Fire.
Minuses:
50% – in hell you are periodically damaged (the maximum is demolished to 75% of the total number of lives.)
Life.
Pros:
The higher the level of kinship, the stronger the regeneration.
Minuses:
When killing, a debaf of weakness and nausea is given.
Devices
There are 3 types of energy in fashion, three essences:
Neutral essence,
Bright essence,
Dark essence.
Nexs are used to obtain energy, they are also 3 levels.
1) just installed nexus.
2) installed + circled chalk.
3) installed + circled chalk + pillars.
Each of the improvements gives a plus to the capacity and speed of development and efficiency.
Development neutral energy:
We create an obelisk: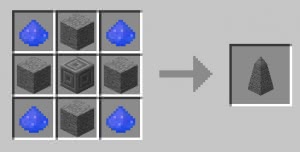 Installed obelisk: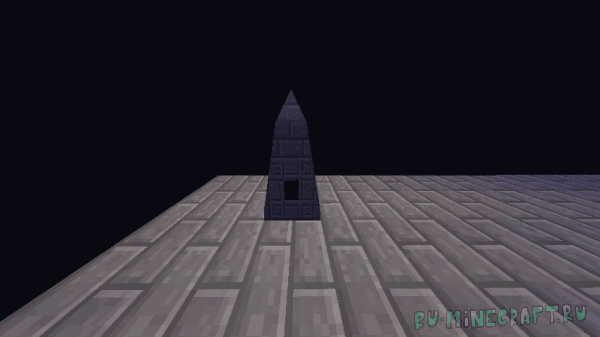 3 levels of the obelisk (nexus):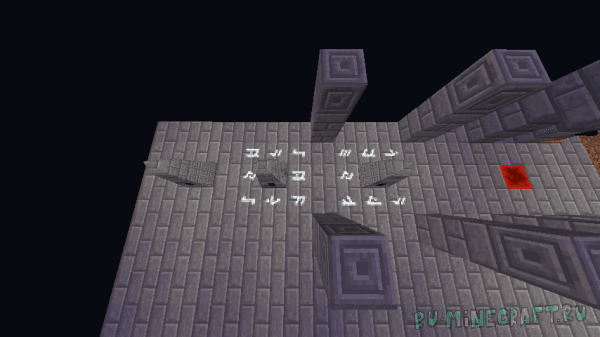 Installed, installed with chalk, installed with metolm and pillars.
Internal interface: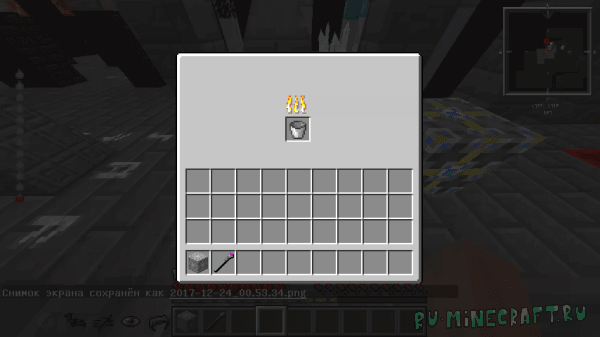 Development Light energy:
We create a heavenly prism
Put the obelisk, around with the help of a chalk we draw symbols:
Next, we throw next to the obelisk – the focus of mana and the lunar stone, then shoot at the obelisk with a spell (shell + light).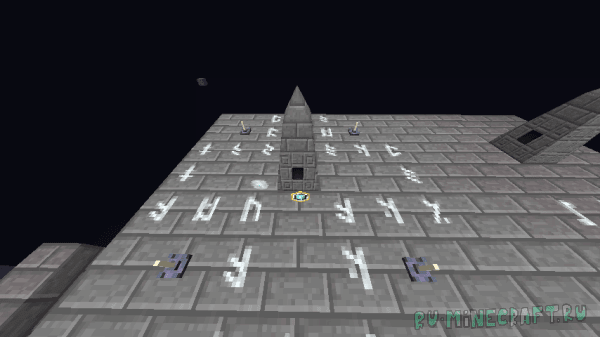 All 3 types of heavenly prisms: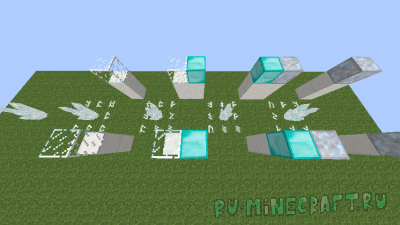 There are three blocks on the top of the level 3. They increase its strength or can change the work course of the prism.
Under the improvement blocks must be blocks of quartz
Glass – weak amplification (works during the day),
Diamond blocks – strong amplification (works during the day)
Moonstone blocks – Super – horsepower strengthening (works !at night)
Development Dark energy:
Create a black aura
Put an obelisk, draw symbols, put candles
We throw solar stone nearby, focus andquot;Monstersandquot; and shoot at the obelisk with a spell (shell + fire from fire).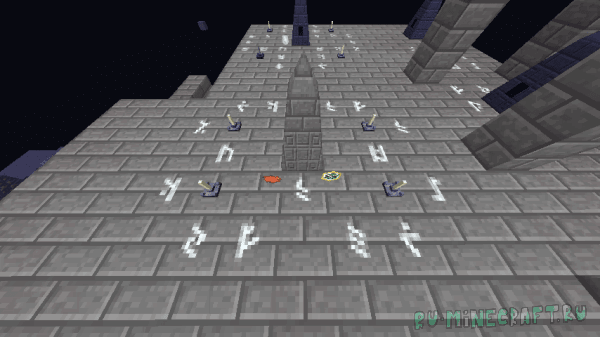 In this nexus, it feeds on any mobs which absorbs.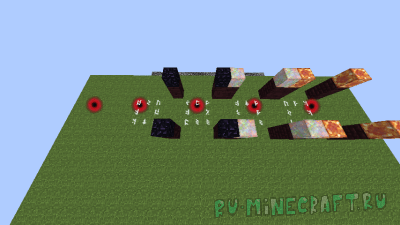 Blocks enhancing the aura:
Mother – of – pearl, obsidian – weak amplification,
Solar stone – strong amplification.
Must be pillars under the enhancing blocks should be from hellish bricks.
Energy connection
To find out how much the essence we have in a particular nexus, we must poke the staff of the magician – engineer on it.
In order to attach the obelisk to the altar or any device (which takes this or that essence) must be closed with a crystal key first by our nexus, and then for one or another device. (A message about a successful connection will appear in the chat).
Blocks:
Blocks
1. Mana battery.
Keeps one type of energy. Maximum number in one block: 250,000. (250k)
With destruction: falls along with energy.
(There is a bug that when unloading the cans, the energy disappears, so I advise you to constantly load the cup/put the loader, or break the block after each use.)
2. Heater.
Almost ordinary stove that works on all types of energy, but with its bonuses.
Effects:
Additional.Effects when working on neutral essence: no,
Frying speed: average.
Additional.Effects when working at a bright essence: there is a 50% chance, on bonus dwarf dust (it works when frying anything.)
Speed: average.
Additional.Effects when working at dark essence: no
Speed: fast.
3. Astral barrier.
Works all types of energy.
It has an inventory slot in which a large focus is placed (to expand the radius of action).
4. A mysterious destroyer.
Works on dark energy
An extremely useful thing. Destroys any object* or a spell laid in it. When destroyed, the resources are jerking off. (if you put a chest, it will be stored in it.)
*Any item scraped in a workbench.
5. A mysterious reconstructor.
Consumes neutral and dark energy.
Sorry for the top armor and there is no way to fix it? Then you to us! For your energy, we will fix you any gear! (except for chalk from Vitchera)
/For those who do not understand. This block is repairing tools, armor, weapons.
6. Calling.
Devour (one cannot say otherwise) all types of energy.
Actually how it works?
We put a spell in it andquot;shell+callandquot; and he calls for the essence a mob imprisoned in this spell.
2500 energy for the call, 150 energy/seconds for maintaining it in our world (andquot;The life of this mobandquot;)
7. Bait for flashes.
Works on all types of energy.
Turning on from the supply of the redstone signal.
Surely you noticed strange little ones andquot;beesandquot;,* who fly around the world (not from Taumcraft, do not confuse)? It is extremely difficult to find them, so this block for small energy costs will spavi them very, very much!
*flashes
8. The table of filling the armor.
Does not require energy (although it shows that it can store a maximum of 5.)
If you bring the cursor to the armor and press [Shift], you will see the level of filling the level.
So this one andquot;tableandquot; It will enchant you armor on incredibly useful enchantments that are not in ordinary Minecraft (majority)
I. Inert Spawner.
Eating dark energy.
The interface is extremely simple, in one slot. You can only stick a bilateeria, filled with a 100% monster in the spirit of the monster.
Sprinkle the monster that is imprisoned in this filac.
10. Otherworldly aura.
Consumes neutral and dark energy.
Actually few people know what it is and why. I will explain.
This is your personal slave and assistant for creating spells.
You put the aura near your chests. (covers not a large territory), within a radius of 10 blocks from the aura, build an altar and, after launching the craft of the spell, an assistant crawls out of it and makes you a spell. (Takes from chests things that are shown to anal, it takes them there and presses the lever for supplying energy).
/I advise you to punish or put a vacuum funnel, or stick a golem nearby, because the finished spell will wallow next to the altar (if you certainly have enough ingredients to the spell itself: p)
eleven. Air flow generator.
Uses all kinds of essence. (only in a state of work and in very small doses)
Guide for using this block.
Put, connect energy, levit.
Well, in fact, everything is a little more complicated. You can lavinate over this block if you squeeze [Shift] at a height of 60 blocks, also protects against damage from falling.
!!!Also if you make a jump to the side of it, then you will steam! (fly up, click the shift to stop) (it works extremely clumsy: tongue 🙂
12. Flickering cube.
Consumes all types of essence (depending on the focus)
Internal inventory contains one focus slot.
About tricks later in the section andquot;dropandquot;.
13. Particle emitter.
Decor.
It does not require anything, just radiates particles.
14. Cleaner essence
Requires neutral and dark energy for work.
With it, you can do essence.
Essence
You can make them in the purifier of the essence.
Actually the exact number of energy for one essence I can not say… But approximately 3 – 5k.
Next crafts of essences:
Earth's essence,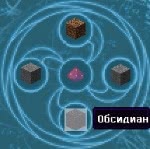 Air essence,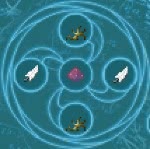 The essence of water,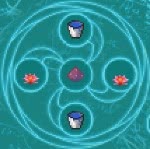 The essence of fire,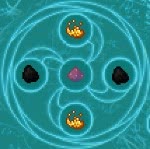 The essence of secrets (mysterious essence),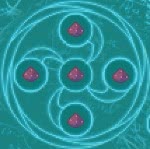 The essence of nature,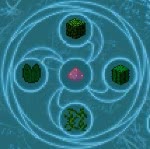 The essence of lightning,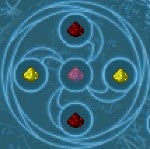 The essence of ice,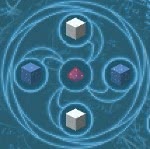 The essence of the region,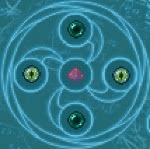 The essence of life,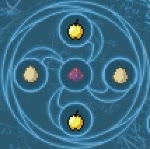 The main core,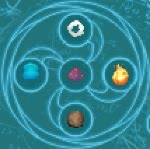 Improved core,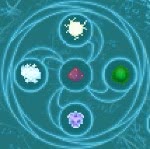 Pure essence.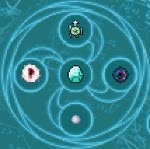 Bosses
1. The keeper of the water.
Actually, for a call, we need a water bioma (swamps or ocean), a design – round from a red icon and throw a bucket of water and a boat into the center (unfortunately the bucket is not returned)
It has 75 hp.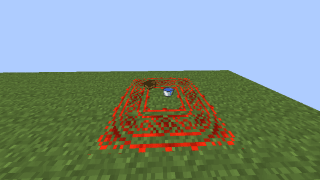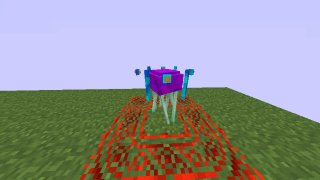 After death, you will fall the blue sphere, there is a chance for the essence of water and water pants.
2. The keeper of the earth.
Design: 8 iron icons (ring), under them obsidian. In the center of the Obsidian ring, carved stone brick, along the edges along the centaum torch.
It has 140 hp. Can apply aeo damage.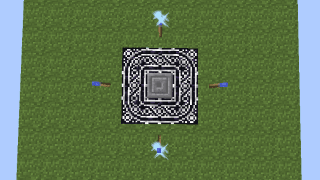 We throw an emerald, mother of pearl and blue topaz at the center and run!)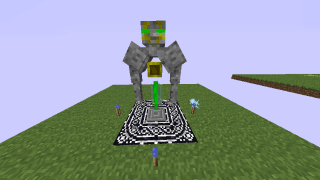 After death, the blue sphere, earthen essence and earthen bib.
3. Keeper of air.
To call it, we are building a circle of gold icons at an altitude of 150 and above, throw the center air essence.
It has 220 hp. Attracts to himself, throws back from himself and removes things, pulls things out of hand.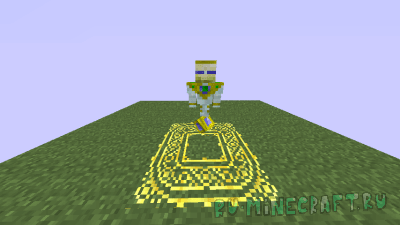 Drop: green sphere, air essences, air cube.
4. The keeper of the secrets.
We build a circle of iron icon, put in the center on the one hand anal, put a book of secrets in it and build two columns of three blocks of book shelves on both sides of it. Then we throw the Secret Essence at the center…
It has 115 hp. This boss will constantly teleport to you behind you and be treated (weak treatment)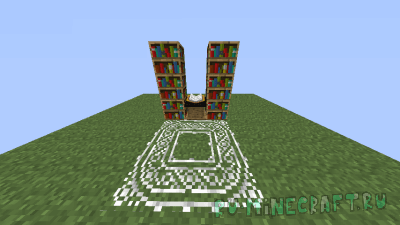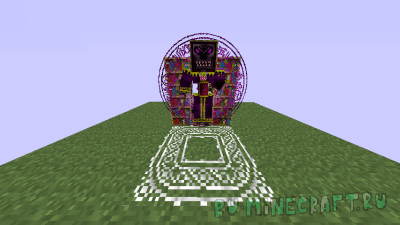 Drop: Green Sphere, a chance to receive secret essences, as well as the possibility of obtaining a secret book for spells.
5. The keeper of life.
To call it, we will need a ritual circle and a resident of a child, which will have to be killed exactly in the center of the circle in the full moon.
Has 200 CP. He will spawn the hordes of monsters. Strong monsters with protection against physical damage and not only.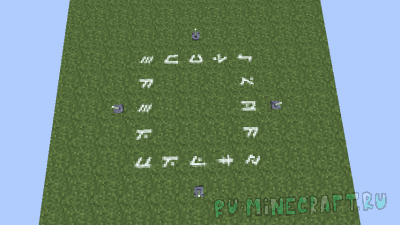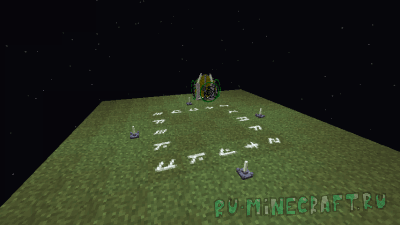 Drop: Green Sphere, Essence of Life and Amulet of Life.
6. Lightning Keeper.
It is necessary to build a ring of gold icons, place the mana battery in the center of it and put 2 iron grilles on it, wait for the rain.
It has 250 hp.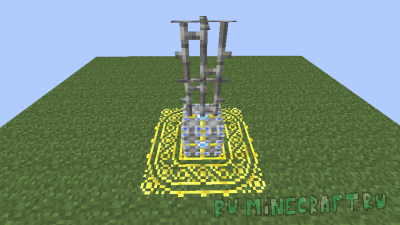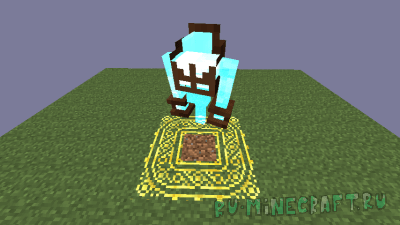 Drop: Green Sphere, Essence Lightning and Lightning Amulet.
7. Keeper of Nature.
To call it, conditions are extremely simple. It is only necessary to kill 5 Dryads in a short period of time.
It has 500 hp. Inflicts mass aeo damage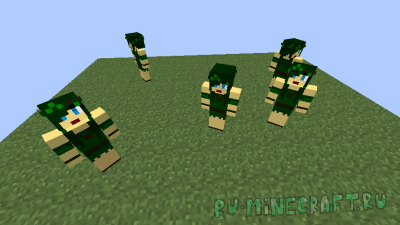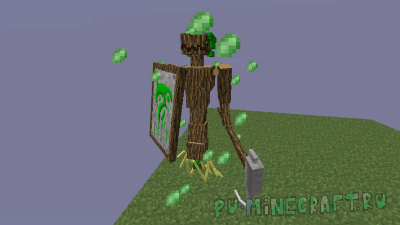 Drop: the Red Sphere, the essence of nature and there will be the opportunity to receive a braid of nature.
8. Keeper of Frost.
We need a ring of gold icons, in the center of which we need to build two blocks of blue topaz and put an ice block on top of them on top of them. Further, a Spawny nearby of three snowmen and we are waiting. He absorbs them and comes to this world
It has 290 hp.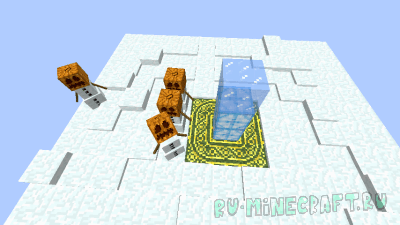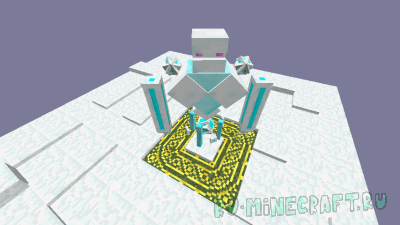 Drop: Red sphere, ice essence and a grip of winter.
I. Keeper of Fire.
To call him, we will have to go down to his world. (we will sleep only in hell) We build a ring of gold pictograms on the obsidian, put the coal block in the center (at the obsidian level) and throw the essence of water on it.
It has 250 hp. His storm will break your andquot;Topandquot; armor in a few seconds. So here the tactics are no longer a simple frontal attack.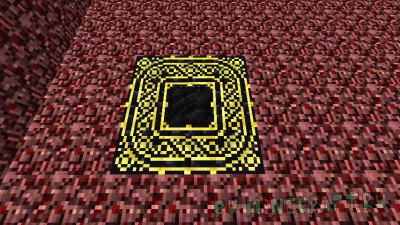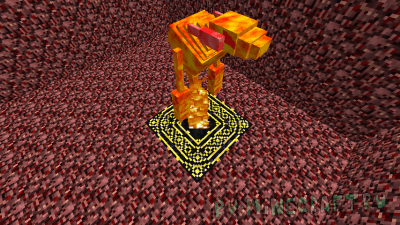 Drop: red sphere, water essence and fiery ears.
10. Keeper of the edge.
This boss will be worse than all sorts of deterse and dragons of the region, because this is the pristine defender of the region, which the gods themselves were imprisoned in the sixteenth world because of his destructive power!
To call it, which is extremely not advised, so as not to call the punishment from the gods (they still suffered, while they tried to sharpen it there), you need to build a circle of gold pictograms, there should be coal blocks under it (3×3), we put it in the centerBlack aura, along the parties in the center, put fire, we throw the essence of the edge and eyes of Ender into the aura.
It has 490 hp. Can increase Max.CP for a short period of time for 15%.
The boss will constantly teleport, throw a lot of debafs and be treated. (strong treatment)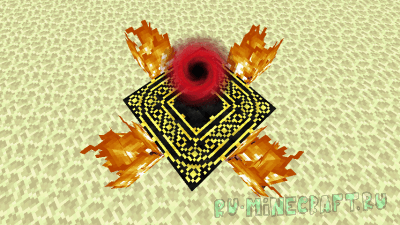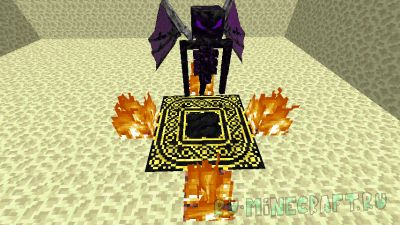 Drop: red sphere, essence of the region and shoes of the edge.
Drop from the bosses
Things that fall out of the bosses:
Water spheres – andgt;Armor slot – andgt;trousers
Falls out of the keeper of water, do not give protection, allow you to breathe under water longer.
The armor of the earth – andgt; Armor slot – andgt; bib.
It falls out of the keeper of the Earth, strong protection, when impact with a fist, the enemy leans back to 5 – 15 blocks.
Air Cube – andgt; Mount.
It falls out of the keeper of the air, put on the ground, allows you to fly (control is not like in a normal flight, but similar to controlling the boat.
The secret book of spells – andgt; item
It falls out of the keeper of secrets, allows you to put spells, has a convenient interface.
The amulet of life – andgt; item
It falls out of the keeper of life, in the included state gives + 10 additional hearts.
Lightning amulet – andgt; item
Falls out of the keeper of the zipper, in the included state lures things to the player.
The braid of nature – andgt; weapon
It falls out of the keeper of nature, can be used as a conventional weapon, and as a throwing weapon. Does not have additional effects.
Twist winter – andgt; weapon
It falls out of the keeper of frost, can be used as a conventional weapon, and as a throwing.
It has additional effects. If in the process of throwing the grip falls into the enemy, then he attracts him to the player who threw the weapon. In this case, a debaf of slowdown is superimposed.
Fiery ears – andgt; Armor slot – andgt; helmet
Falls out of the keeper of fire, do not give protection, when wearing gives complete fire resistance.
Shoes of the edge – andgt; Armor slot – andgt; boots
It falls out of the keeper of the edge, do not give protection, when pressed [shift]+[gap] they will send you on the air trip with your feet. (throws it to an indefinite height + turns over.)
The principle of operation of some objects:
Broom – andgt; Put on a chest, sucks objects from the floor, wares them into an attached chest.
Crystal Philicaria – andgt; Filled with the soul of a monster, at the death of a mob.
(Needed for inert Spawner and call spells)
Binding elements – andgt; Need to create a spell andquot;The ligamentandquot;.
Magazine – andgt; You can throw all your experience into it and take it back. Storage of experience.
Ominous book and wooden leg – andgt; In this version they do nothing. (In the last version of the fashion with their help it was possible to open a portal in Mu – Mir.
Potion with Ethereum – andgt; Gives a temporary buff (duration: 4:20) which increases the number of your mana by about 40%.
The potions of mana – andgt; Restore mana (the number of restored mana depends on the rank of potion)
Key Kamen – andgt; used to preserve password combinations.
Protective candle – andgt; It has two use.
1. Like lighting and rituals (PKM on the ground)
2. As a kind of radar for blocks. usage:
Click [Shift]+PKM on the block that you want to look, hold the candle in your hands and follow the color of the flame. Red = block nearby, green = block out of reach of a candle. (Initially, the radius of the candle: 2 blocks from the player, but this value can be improved by enraging the armor in the table of filling the armor.
Mana pie – andgt; As the ancient magicians said after complex rituals and the development of new magic: andquot;Take a pie from the shelf, fill up manaandquot; When eating gives a buff andquot;Mana Regenandquot; – The restoration of mana of the first level.
Focuses:
Transportation – andgt; Transportation of objects, moves objects from chests indicated by markers. (crystals)
Ban – andgt; prohibits the entry of monsters into the area of the focus of this focus (you can go out)
Continuing – andgt; It works back the focus andquot;banandquot;
Filling – andgt; fills the space under it with blocks in a limited radius.
Plains – andgt; aligns the territory over himself in a limited radius.
Office – andgt; mating animals located within a radius of 8 blocks.
Massacre – andgt; kills all animals, except for the last pair within a radius of 6 blocks.
Lunar tide – andgt; All lunar stones that have fallen within a radius of 128 blocks from him will be drawn to him. (will fall within a radius of 5 blocks, so be careful with chests)
Lighting – andgt; The name is responsible for itself. Illuminates the territory within a radius of 16 blocks.
Foiled oaks – andgt; cuts down trees located within a radius of 6 blocks.
Soft rains – andgt; irrigates the soil within a radius of 6 blocks.
The generosity of nature – andgt; accelerates the growth of all plants within a radius of 6 blocks.
Fishing – andgt; catches fish if under it a pond (at least 3x3x2). Redstone signal requires.
Helpful information
If suddenly when creating a spell, you need to stop its creation, then just click PKM along the upper central block and things will fall on your head.
If you stand next to 75%+ nexus (obelisk/bright prism/black aura), Buff will be given andquot;Mana Regenandquot; first, second and third steps, respectively.
The three upper slots in the devices are needed for runes, this is a kind of password. You can put any of the existing runes, but to open andquot;Saltedandquot; The mechanism must be in the inventory of the key – stone with the exactly the same combination.
Anti – stichia inflict increased damage. (for example, water is fire, or fire to nature, and t.D.)
This mod adds to the game the enchanting of Magic Resistance, T.e. Magical resistance. Protects the carrier from a large percentage of damage from any magic. This enchanting can be applied using books on armor.
The magician of the magician has a small glitch in work, so I do not advise crawling out any of the enchanted things. (Removes the spell with quick transfer.)
If you unload the cup, then all the connections of the instruments will get together. (Have to connect them again)
Not at any raising the level, skills glasses are given. (There are an exception)
Guide is not mine, for the most part I took the information for him from the Sky – Mine forum.RU, user Bormo, I corrected and added a little, I did it in order to maintain useful content in Runet.