Other ways to play with friends over the network, including via the Internet:
1) All possible ways to play with friends on the network and via the Internet, on servers.
2) how to play Minecraft on a local network.
Download the Hamachi client for Windows from our site:

Downloaded the archive, unpacked to any place and install the program itself
You can download the latest version and other platforms from the official siteNote: Do not forget to remove the checkplace from Install Lastpass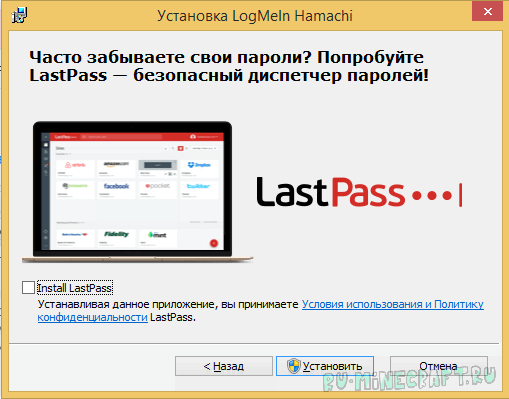 Installed and now launch. Sometimes a reloading of the system may be required.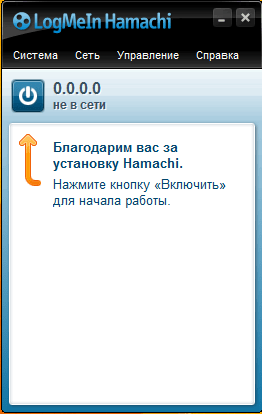 Here we come out a hint:
Press the button andquot;Turn onandquot; To get started.
What are we doing. Coarses the entrance/registration window of the account. Imagine that we do not have an account and we need to register. Who already has an Hamachi account – feel free to miss this item
Registration
Enter our data in the current email and password, not forgetting to put a checkmark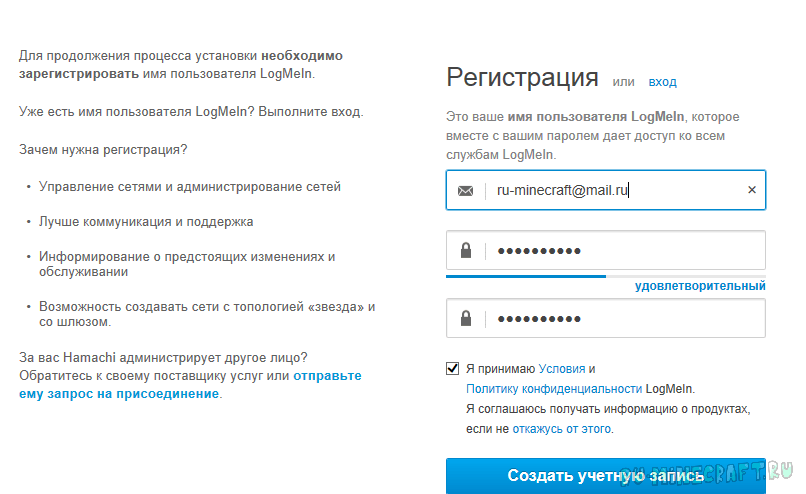 Creation of the Hamachi server
So, we have successfully registered and now we need to create our own server where we will go. In the main menu of the program, click on the button andquot;Create a new networkandquot;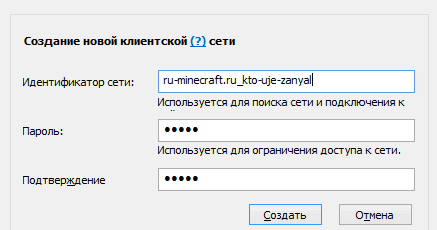 Here we introduce the identifier of our network (name) and any password to connect to it
With a successful creation, our, just created, server will appear on the list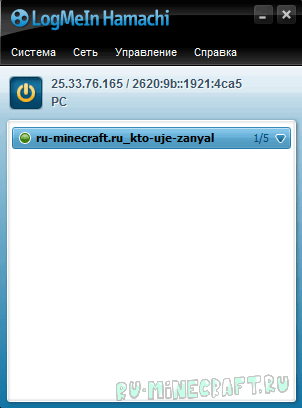 Here we can see our IP address issued by the program:
25.33.76.165MAMAMEMENT: IP address is constant and issued once cannot be repeated with others
Connection to the Hamachi server
And now the second person, having previously set the program and registered, simply enters your server using our identifier and password
Click andquot;Netandquot; – andgt; andquot;Connect to an existing networkandquot; and enter our data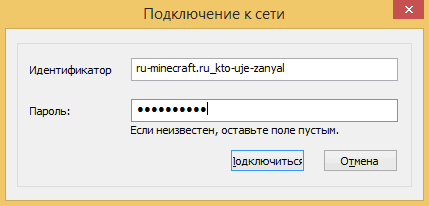 If everything went well, then our friend will be on the list of our Hamachi server: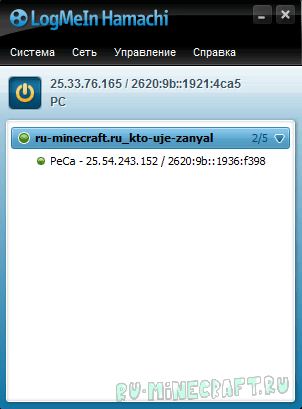 Now we need to check whether the connection between computers is working? To do this, just press the right mouse key ( PKM ) on our friend and choose a item andquot;Check accessibilityandquot;
The console will open and sending/receiving packages will begin. If everything is fine, then it will be something like this: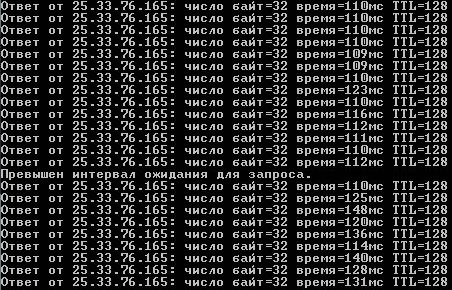 If you see
Timed out request.
then there is no connection between computers, there are problems and the main of them is Firewall And Antivirus – They need to be disabled.
How to disable the firewall?
We go to the control panel, change View: on andquot;Small iconsandquot; And choose andquot;Windows firewallandquot;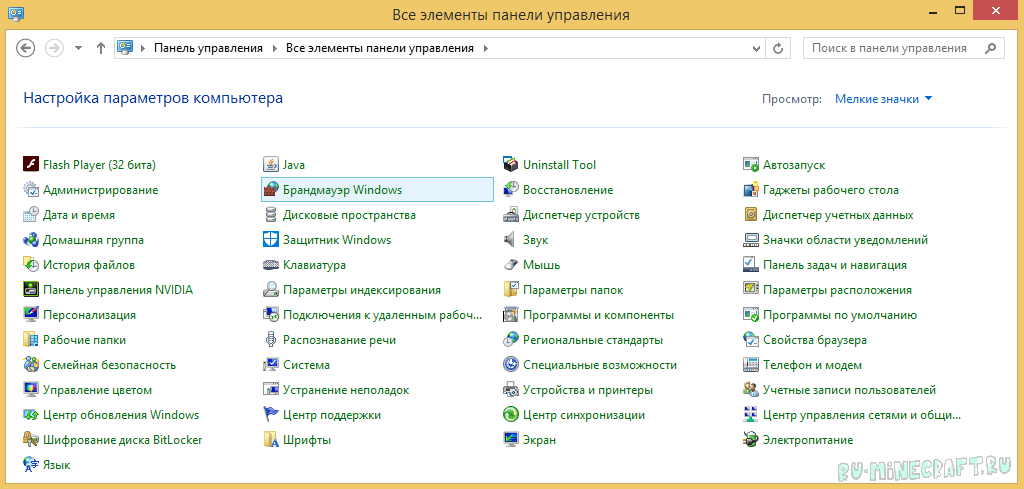 On the left we find and click on andquot;Turning on and disconnecting firewall Windowsandquot;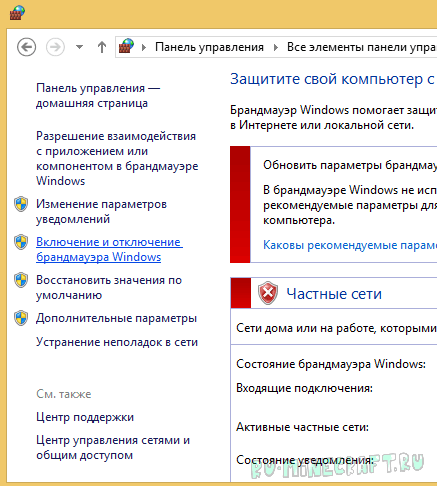 And then just turn off the firewall in both parts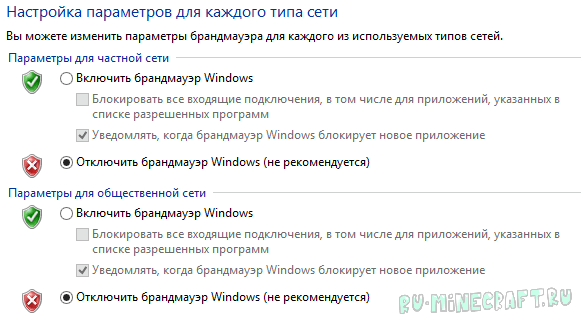 After turning off the firewall and antivirus – we try to check the connection with a friend again, in theory – everything should earn
Connection to the Minecraft server
Note: All players should have exactly the same customer versions! This is especially true for customers with mods. There are 2 server options: built – in (launch in the client) and allocated (download separately)
It is strongly recommended to use the dedicated server
Consider the connection to each of them
1. Connection to the built – in server
The server creates/enters the world, enters the menu ( ESC ) and opens the server for the network ( Open for the network )
It is important for us to find out the port that will be written in the game chat

Note: With this type of creating a server, the port will always be a random unit player simply launches the game, enters andquot;Online gameandquot;, chooses andquot;Direct connectionandquot; or andquot;By the addressandquot; and introduces the IP address Hamachi and the port through the colon ( : ) that we learned earlier

2. Connection to a dedicated server (recommended)
So, we have a ready – made and tuned server, now we need to prescribe the IP address Hamachi in the server settings so that we could go into it
We go to the folder with our server and look for the file Server.Properties. Open it by any text editor. We are looking for lines:
server – ip = server – port =
In the line Server – IP = Enter our IP address where the server will stand. And in the line Server – port = just remember the port, by default it is worth 25565
We launch the server and now we connect to the server on behalf of the second person. We launch the game, go to andquot;Online gameandquot; And click andquot;Addandquot;. Here we introduce the Hamachi IP address and the port that we already know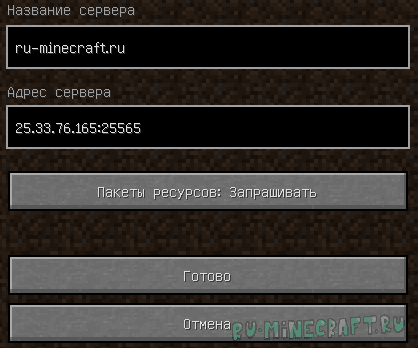 If everything was done right before, then we will see in the list our server with the number of players and the quality of communication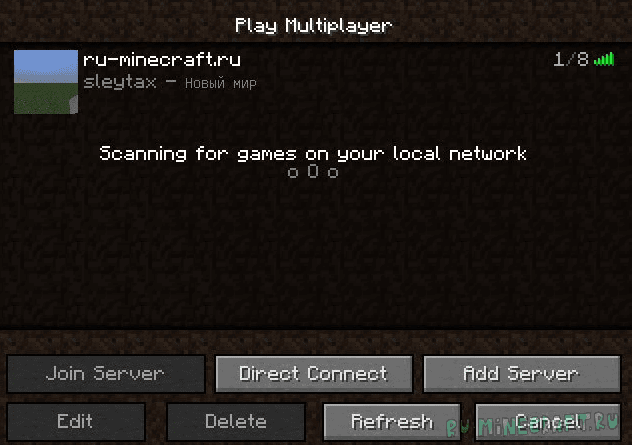 Actually, we go to him and start playing
I repeat again – the game together needs the same versions of the client, especially this applies to mods