Description
So, how can this chip be used?
First, it will serve as a cover for your card.
Secondly, you can make funny panoramas.
Thirdly, you will stop looking for the desired world if you install a distinctive icon.

How to do it?
The icons for the world are generated automatically, but you can put your.
– Open the World folder
– Replace the iCon file.PNG for a 64×64 picture of interest to you (preferably)
Version: 15w32b

Screenshots
What came of it?
Standard icon
Standard picture

The picture was established by itself. (Due to the screenshot)
Picture due to the screenshot

Panorama
Panorama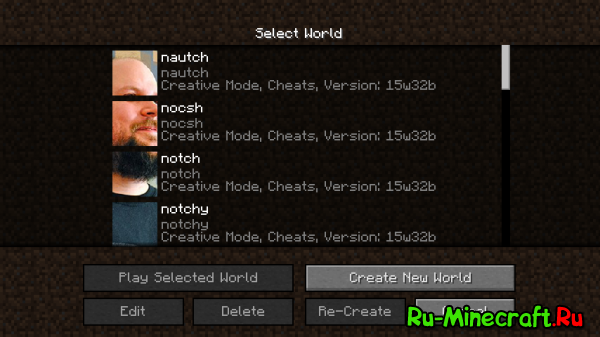 I squeezed the maximum information from this section.
I hope this guide helped you.
You will use it.
Thank you for your attention.