Hello HCN with you and now I will show you a small mechanism. Its essence is that if you put the desired plate in the player, a signal will appear at the output of the circuit. The scheme is compact, silent and hides without problems behind the wall.
You will need: – 1 player;
– 1 funnel;
– 2 comparators;
– 3 repeaters;
– 3 dust particles of Radstone;
– cheap objects (preferably eggs or signs), for each plate a different amount.
Building: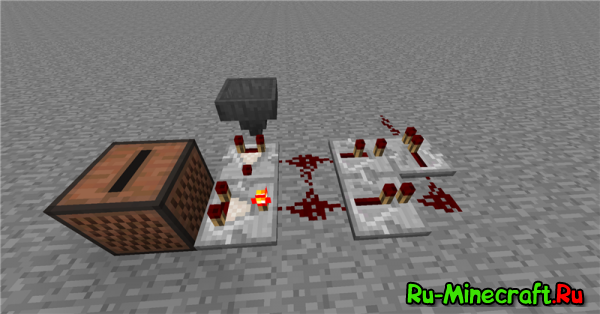 (Output of the scheme to the right of the funnel)
Actually, nothing complicated. Pay attention to the modes of the comparators and delays of the repeaters – this is very important.
Settings:It is made by loading objects into a funnel. First, select a plate that you would like to use as a key. Next, load the number of objects into the funnel, which corresponds to the name of the plate. It is easiest to use eggs or signs as a filler, as they are cheap and fierce 16.
– 13 – nothing;
– CAT – 1 plate;
– Blocks – 6 plates;
– Chirp – 12 signs;
– FAR – 18 signs;
– mall – 23 signs;
– mellohi – 29 signs;
– Stal – 35 signs;
– Strad – 40 plates;
– Ward – 46 plates;
– 11 – 52 signs;
– WAIT – 58 tablets.
It is better to close the funnel or block so that unnecessary items do not fall into it and do not knock down the scheme.
How it works? There are 12 records in Minecraft at the moment. Each of them when placed in a player gives out a different signal at the comparator output (from 1 to 12). This scheme creates a narrow andquot;Comfort zoneandquot; For each plate. If the signal is below the necessary, then the comparator's signal near the player will be blocked by the comparator coming from the funnel. If the signal is higher than the necessary, then it will activate the repeater that will block the output of the scheme. The desired signal will not reach the repeater and at the same time will be missed andquot;filterandquot; From the comparators. The funnel serves in order to reduce the length of the signal at the input. That's all. Comment, evaluate, criticize.