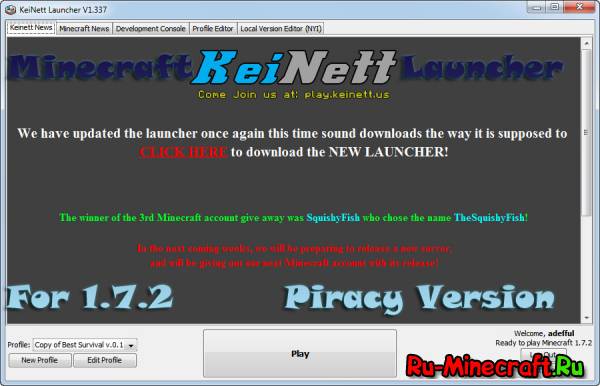 Good morning! With you is Sanya – Minecrafter, and today I found a new pirate launcher, thanks to which, if you still cannot install 1.6.X, you will succeed.
– – –
And so, as I wrote above, thanks to this launcher you can play on any versions of the game (if you still haven't succeeded), you can put a ready – made client, create your own, and t.D. In terms of functionality, this launcher is almost similar to licensed, which facilitates work with him. Like on a licensed launcher, you can install all versions from 1.0 to 17.2, as well as place them in different folders. Also, you can test snapshots using this launcher.
One of the key advantages of launcher – All customers, made on it, go on a licensed launcher, as well as vice versa, no files need to replace any files. Mostly because of this, it is easier to create customers on this launcher.
Launcher's functionality is quite large, because I am writing a guide (oh god! AGAIN!) on it in which you will learn how to use it.

HydeFirst start:
When you first launch this launcher, a window will jump out where you will have to indicate the standard path to the folder of your Minecraft and#39;. In the future, when you create profiles, you can change to the one you need.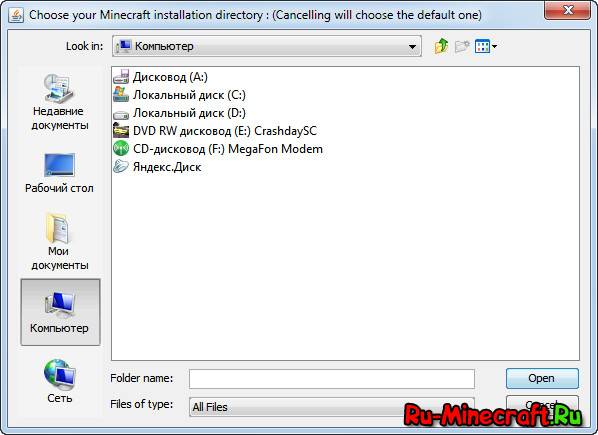 GUI launcher:
After you configure the path to the Minecraft folder, you will see, in fact, the launcher yourself.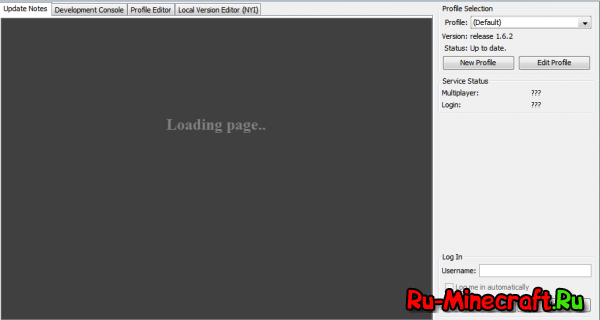 Let's briefly figure out what is here and how:
1. Buttons from above.
There are 5 of them – Keinett News (in old versions of Update Notes), Minecraft News, Development Console, Profile Editor and Local Version Editor.
Each of them performs its own function, which we will talk about later.
2. Profile Selection.
In this window you can choose a profile, create a new one, and edit the old.
3. Log in.
It is clear to everyone here – here you can enter any nickname, and start playing.
4. Service Status.
It will be displayed here whether you can play on servers or not (it is loaded, like the main window, not always).
Profile Creation:
After you indicated the path to your Minecraft, you, if you want, can create a new profile in the launcher, thanks to which you can use one or another version of the game. A standard profile is driven into the launcher, which indicates the path to the Main folder that you indicated initially. You can change it by clicking on the button andquot;Edit Profileandquot;. If you create, or edit your profile, you will open a window with the following settings that you can configure to your taste.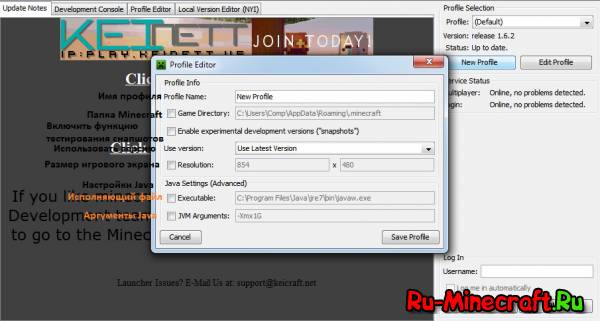 If your profile is new, and it does not have a game, then when you run it, the version you need will begin to automatically be installed.
Development Console (development console):
This very console will display what is happening in the game and in the launcher, how is the launch, how is the modification of mods, how the world is generated, and much more.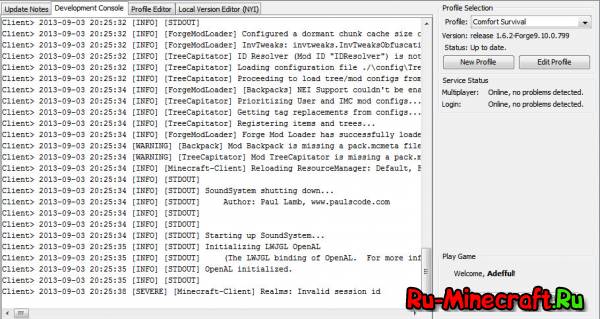 Profile Editor (profile editor):
Here, you can (again) create, copy and remove profiles. To do this, click PKM according to the profile you need in this window.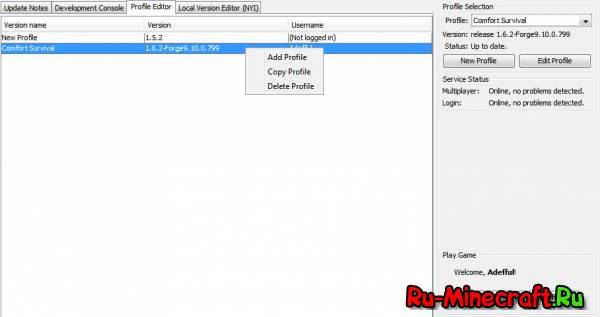 Local Version Editor (editor versions):
In theory, this should be the editor of the version. However, I don't understand what it is.
Who knows why it is needed and how to use it, the request to write in the comments.
Minecraft News (Minecraft News):
Everything is clear here – here you will see the news of Minecraft, this is a standard license launcher window.
Keinett News (Keinett News):
Everything is obvious here too – the news of the developers of the launcher, and also, in that window you can see Launcher updates.

Old versions
1.6 and below.
And Remember IF You Like Minecraft Buy it!
And remember – if you like Minecraft, buy it!
(c) Keinett team.