Technic Launcher – launcher for Minecraft – was created for those who like to play Minecraft with mods. After all, this launcher was created so that you could easily install assemblies directly through it. A small team of programmers worked on this. And they have succeeded.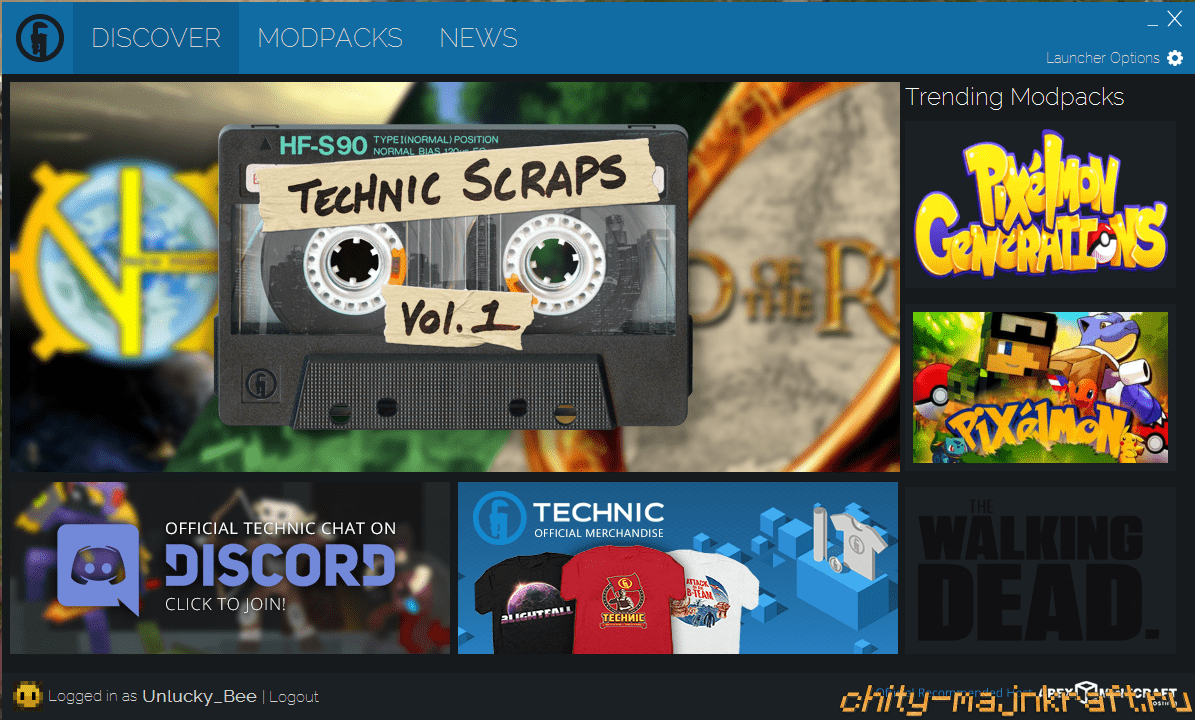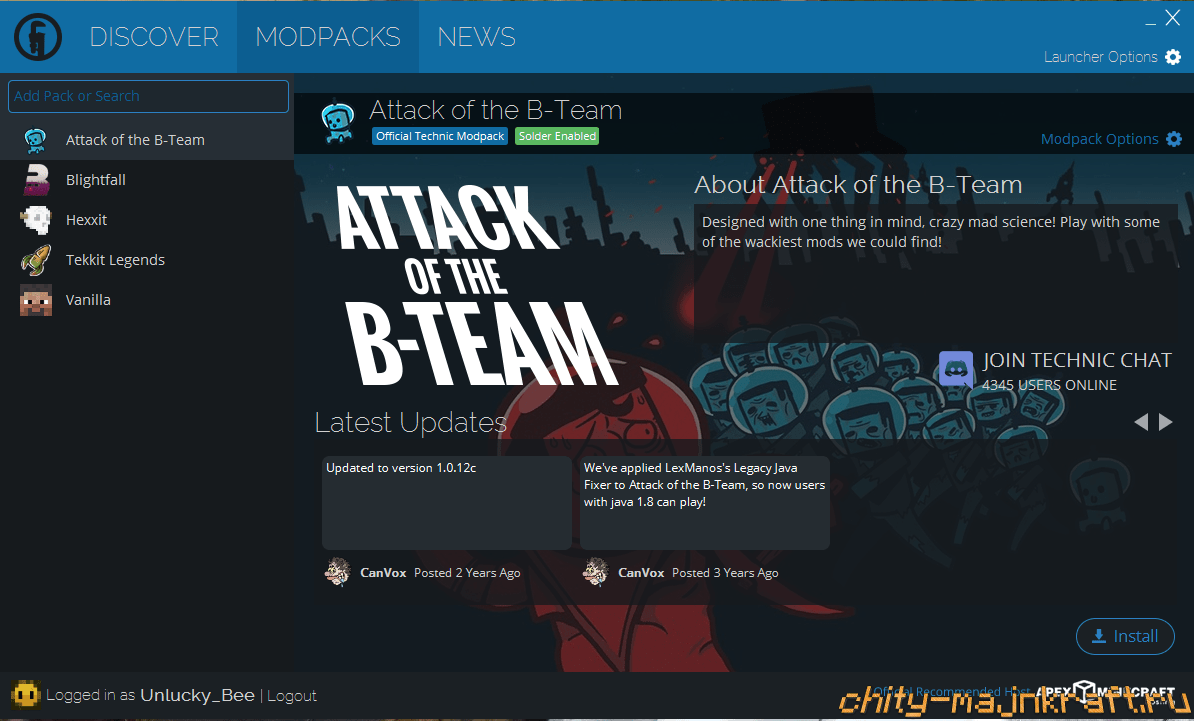 Building in Technic Launcher – launcher for Minecraft:
Attack of the B – Team – This Modpack was developed with one main goal, crazy crazy science! With the help of B – team, the developers took the coolest mods that were able to find and launched them all in the fashion package for you, guys. The result is an attack b – team! Here's what is included:
Advanced Genetics by Obsilp
Archimedes ships by Balkondeur Alpha
Artifice by Shukaro
BIOMES O 'PLETY BY TDWP_FTW
Carpenter's Blocks by Mineshopper
Chisel by Automatic_Miden, Darwin by Mancoou
Dragon Mounts by Barracudaata
Enhanced Portals 2 by Alz454
Flan's Mod W/Parts Pack/Modern Warfare/Titan Pack by Jamioflan
Food Plus by Josethecrafter
Fossils and Archaeology: Re – ported by Team July/Ported by Cannibalvox
Galacticraft by Micdoodle8
Hamsterrific by Razzleberry Fox
Hamsters Forever by Cannibalvox
Hats by Ichun, Liquid Xp by Immibis
Map Writer by Davey Liam
Minecraft minions by Atomicstryker
MineFactory Reloaded by Skyboy
Morph by Ichun
Mr. Crayfish's Furniture mod by mr. Crayfish
Natura by Mdiyo
Not enunch items by chicken bones
Nei Plugins by Mistaqur
Open Blocks by Mikeemoo
Project Red: by Mr. TJP and Chicken Bones
Qcraft by Dan200
Random Things by Lumien
SaintSpack (Dubstep Gun) by Thieves
Secret Rooms by Abrarceed
Statues by automatic_miden
Sync by Ichun
The Necromancy Mod by Sirolf2009/Ported by Cannibalvox
Thermal Expansion by King Lemming
Tinkers Construct by Mdiyo
Trailmix by Ichun
Tropicraft by the tropicraft Team
Waila by Prof Mobius
Waypoints by automatic_miden
Witchery by Emoniph
World of Dinos by Cannibalvox
BlightFall – This is a combination of modpaks and adventure cards about survival on a foreign planet. He uses magical and technical mods to create a new gameplay. Can you survive in a world completely covered with Thaumcraft?

Peculiarities:
– A map made using Terrain Control in size 3.75 square kilometers.
– dozens of new ores at 8 yield levels. Each bioma has its own ores.
– more than 200 quests in the quests book.
– customizable structures in search sites around the world.
– User mods specific for this Modpack, adding new ways to combat Tain.
– New books in the style of TIC, which explains work with new metals, with advanced information about armor.
Hexxit – This is a new Minecraft mod collection, which give the most adventures in the style of old Dungeons and Dragons. The study is interesting, there are more danger, and the feeling of satisfaction from cleaning the dungeon is intense. Modpak is full of quality content from some very talented people.
Tekkit Legends – possess a philosophical stone, roll on the rails, bred bees and much, much more!
Vanilla – The easiest Minecraft without any additions to it.
Description Technic Launcher – launcher for Minecraft:
Convenient installation of assemblies with mods without leaving launcher.
Very beautiful appearance made in retro style.
Light installation of launcher in just a couple of clicks.
Access to the launcher only if there is a license. Yes, it's sad, but it is worth buying it. After all, now you can get an account for mere pennies.
How to install Technic Launcher – launcher for Minecraft:
Download launcher installer – download
Run the launcher installer. After the loading of the installer is finished, just start it. There are no viruses in the installer and launcher!
After installing the launcher, you will have a window where you can indicate the nickname, select the Minecraft version.
As soon as your version is completely loaded, you can press the "Play" button. All!