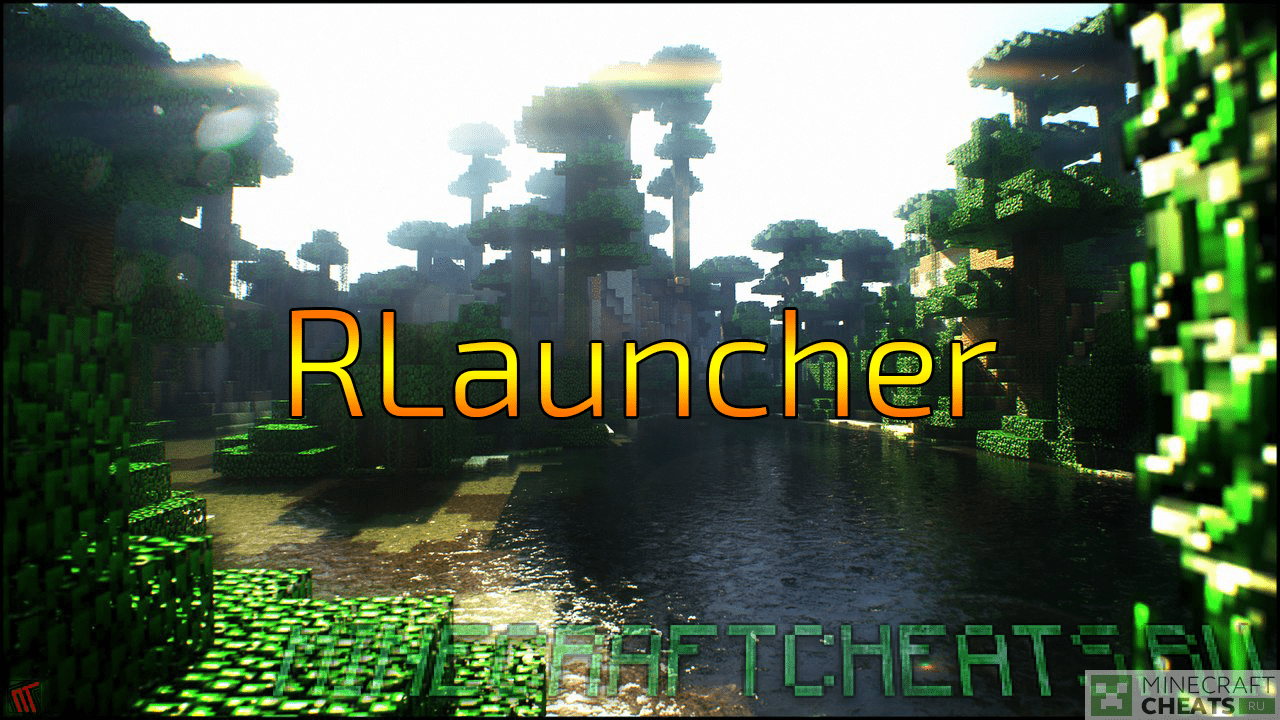 Rlauncher – launcher for Minecraft – A recently created launcher to help you make life easier and save time well. At the moment, this launcher will allow you to very quickly install a huge number of cheats and textures. Unfortunately, the Count "Fashion" is still in development, and it will not work to use it.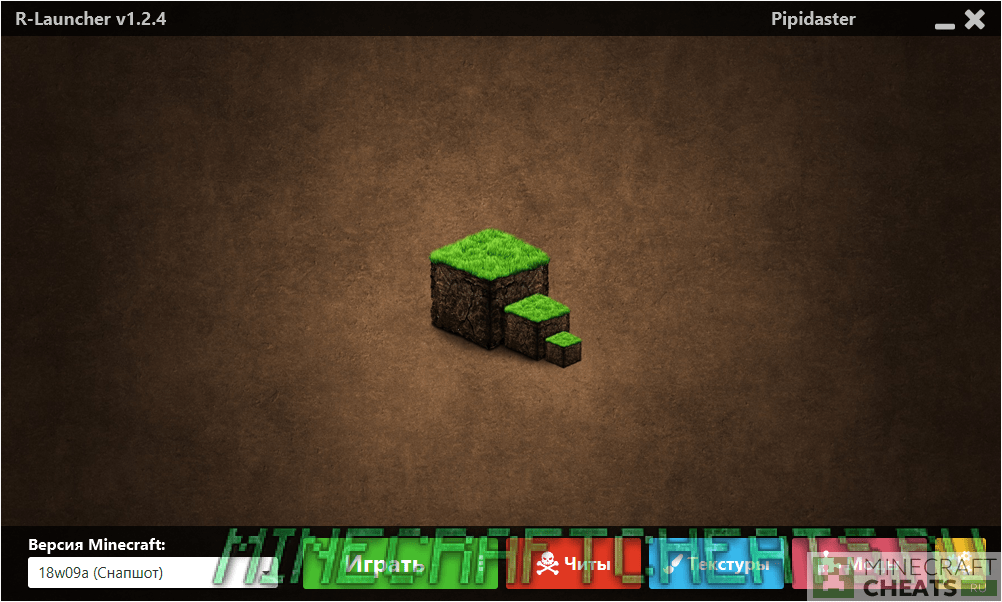 Textures Rlauncher – launcher for Minecraft: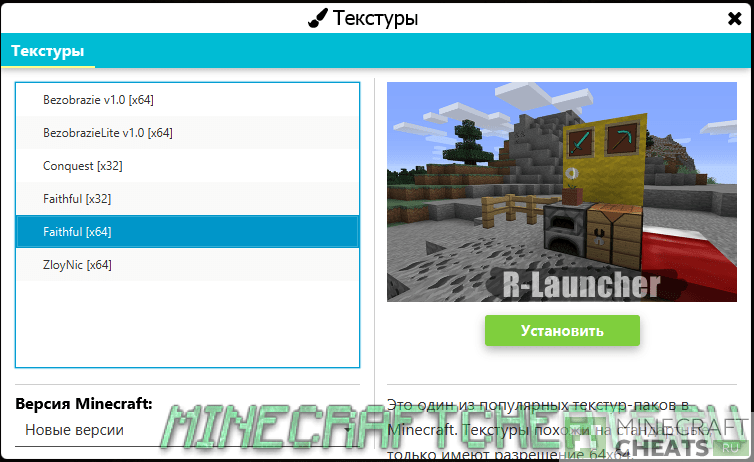 Ugliness – texture PAK from a not – known YouTuber. This texturedpack is not something special, because it simply slightly smoothes the textures of the blocks and makes the armor more beautiful. One of the plus will be that the sword in this texturedpack is cut and looks short. This will appeal to those whom his inspiring size, occupying half of the screen.
Bezobrazielite – The cut version of the first texturepak. Suitable for those who have a not very powerful PC, but still want to play with textures.
Conquest – atmospheric resourcepack made in medieval style. It should definitely pay attention to him, because it is painted quite neatly and beautifully, and this is important for connoisseurs of a beautiful picture.
FaithFul – The most popular and famous texturedpack around the world. There are no 1 person who installed textures for himself, but never tried FaithFul. After all, these textures are very attractive, go to weak PCs, as well as very colorful. This is clearly approved by every user of the game.
Zloynic – Texture Pak from another YouTuber. It is completely aimed at making PVP battles more convenient and attractive.
The number of textures can increase as launcher updates.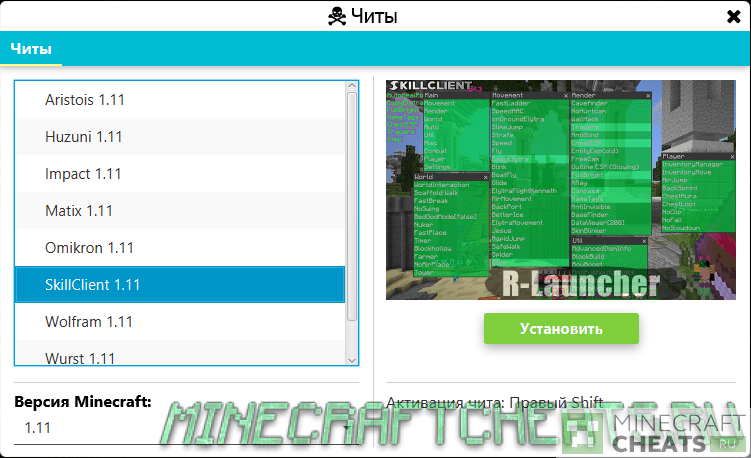 Cheats in Rlauncher – launcher for Minecraft:
At the time of writing this text in the launcher, more than 40 cheats are counted for all versions of the game starting with 1.5.2 and above. They are especially popular:
Matix is the best cheat according to the people. Convenient cheat with a large selection of functions. He also bypasses most anti – Cheates and in itself improves your safety. Since its use is easy to hide even from the eyes of admins.
FLUX – the choice of those who love fast PVP collisions. After all, Flux has a rather cruel Killauura that is capable of a lot.
Skillclient is the very cheat that will allow you to get absolutely any head from creativity. Let there be a berry, let the killer. With him you can equip a beautiful house or a park. But it is not worth judging by this criterion. After all, besides this you can get armor with the vagar of God. And that is, the level 9999. In modimous data of charms, it is also distinguished by excellent functionality to simplify the game.
Description Rlauncher – launcher for Minecraft:
This launcher occupies almost the top in the top of such launches. Flaucnher still remains in the first place.
The launcher has a pleasant appearance that it will not strain your eyes much.
The background in it can also be replaced with any other picture that you download yourself.
A huge amount of cheats, which will allow you to choose the one that you will like.
Textures should pay special attention, because it is they who improve the appearance of the game. And here you can find and install them directly through the launcher.
Access to absolutely any version, including snapshots
Light and simple installation of a couple of clicks.
ATTENTION!!! Rlauncher is no longer supported by the developer! He works with problems, many functions do not work!
How to install Rlauncher – launcher for Minecraft:
Download
Run the launcher installation.
After installation, the launcher himself will start and install everything you need.
Enter the nickname .
Select a version or cheat.
Install the version you need or cheat.
Click the "Play" button.
Everything, the launcher is installed and you can play!