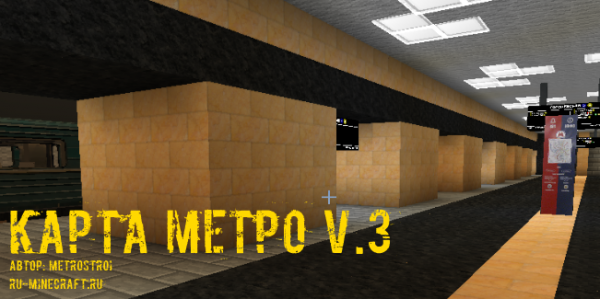 Good afternoon, I present you the fourth version of my card. Realtranmod is completely updated in it, now you can drive on trains with 8 wagons without lags, the card itself is increased! But this is not all, more details – further.
Card chip:
Realtrainmod – Real trains!
51 station In real size!
Complete infrastructure (Inter – tonnels, interlinear, nipples and p.R.)
Unique navigation (Thanks to Real Train Mod)
=========================================================================
How to use:
Since the client includes both the client and the approach here is a special.
Starting the game, we are sleeping in the U – turn, from there we can teleport anywhere. You have 8 wagons in your inventory, put them on the rails, climb into the cabin and click a little on the left (where the seat has a seat) after planting below there will appear a special interface, you will figure it out, the main thing is to remember that S – gas, W – brake (t.e. On the contrary), p is a beep.
To remove the train, click with a clamping clutch, and to change the train model, click with Shift under the middle of the carriage.
To connect 2 wagons, we need scrap. Click on the coupling of any connected car (with Shift), we see a message andquot;Concatenation Modeandquot;, We sit in the second car and slowly go towards 1 carriage. A characteristic sound and inscription appears andquot;Concatenatedandquot;. Ready!
=========================================================================
Why does the archive weigh so much or what is included:
All mods necessary for the work of the map
Metro card (with bioms)
Interactive map located in the root folder
=========================================================================
History of versions:
Version 1
○ The first release
Version 2
Map:
○ 5 new stations
○ New train (model 717) (Hand – Made)
○ Corrections of spelling errors
○ excess maps are deleted
Interactive schemes:
○ Added new functions (showing open areas and stations with Germovo)
Version 3
Map:
○ 9 new stations in.T.h 1 new line
○ Train arrival signal to the station
○ World Generation Manager (about how to use below)
○ Optifine
○ loading 60 ~ 70% faster
○ A complete change in navigation in order to increase productivity and preserve the archeatectural appearance of stations
○ Added emergency call columns
Interactive schemes:
○ Added new functions (showing stations with exits to the village)
○ excess maps are deleted
Version 4
Map:
○ 13 new stations in.T.h 1 new line
○ Full renatrainmod update to version 1.7.10.20
○ Complete replacement of semaphores
○ replacement of navigation (now the signs are twice thin)
○ A new train model with the possibility of choosing a scoreboard (E233 model)
○ The appearance of elevators for the disabled and especially lazy
Interactive schemes:
○ Added new functions (showing stations with elevators)
○ displaying lines and quick viewing
=========================================================================
Another important information