Maud SliceD – knife for cutting bread and apples.
This mod will add a knife craft to the game, with this knife you can attack mobs or cut bread and apples into 8 and 6 pieces, thereby just increase the amount of food available to you.
The mod cannot be called realistic, in fact a simple knife allows you to multiply bread and apples, if you create such a mod, then it was necessary to do the support of cutting and other food.
By the way, a blunt knife can be sharpened with a sharpener stone.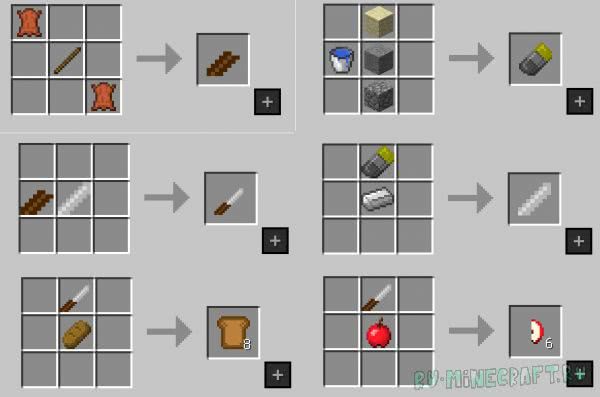 How to install mods SliceD mod?:
Install the FORDH for Minecraft.
Download the mod and place the file at: C: \ Users \ Your user PC \ Appdata \ Roaming \.Minecraft \ Mods
Open the launcher Minecraft and select in the profile version of Minecraft with Fordzh.
Download mod Sliced mod:
1.7.10: SliceD – 1.7.10 – 1.1.2.jar [11,04 kb]
1.12.2: SliceD – 1.12.2 – 0.0.1.jar [20,11 kb]