@import url ('https: // fonts.Googleapis.COM/CSS?Family = jura: 700 ');.News {Padding: 18px; Font – Family: 'Jura', Sans – Serif;}.Screen {border: 1px solid #b22222;}.Bl {margin: auto; margin – top: 16px; margin – battom: 16px; padding: 16px; border: 4px solid #121311;}.Bl_Mods {border: 4px solid #121311;}.Title {Font – Family: 'Jura', Cursive; Font – Size: 48px; Font – weight: Bolder; Text – align: Center;}.Text_mal {Text – align: Justify; Text – indent: 24px; font – size: 18px;}.Text {Text – align: Justify; Text – indent: 24px; font – size: 20px;}.Mods {Text – align: Justify; Text – indent: 24px; font – size: 30px;}.Title_Spoiler {Text – Deceration: None; User – Elect: None; Width: 250px; Padding: .5em 1em; Background – Image: URL (https: // ru – Minecraft.RU/Podloads/Postots/2018 – 08/1533074393_Fon_Fonks.png); border: 2px solid #b22222; margin: 16px;}.Title_Spoiler: Hover {}.Title_Spoiler: Active {}.Title_Spoiler A {Text – Deceration: None; User – Elect: None; Color: #fff; Font – Size: 16px;}.but {color: #fff; font – size: 16px; text – decoration: none; user – select: none; width: 280px; padding: .5em 1em; Background – Image: URL (https: // ru – Minecraft.RU/Podloads/Postots/2018 – 08/1533074393_Fon_Fonks.png); border: 2px solid #121311; margin: 16px;}.button: hover {border: 2px solid #b22222;}

Stackup! – Increase the size of the glass of objects
Description
This mod allows you to change the size of the glass as you like.
(Maximum glass: 999 million)
It allows you to change the glass not only in vanilla items and blocks, but also increases the sounds of objects from other mods.
For example: Refined Storage, Applied Energistics 2, Charset, Iron Chests Quark and Rustic
How to change the size of a glass
Preparation1. Run the game and go into the world. 2. Go to the Minecraft folder (how to find the Minecraft folder?), then go into the folder andquot;Configandquot;.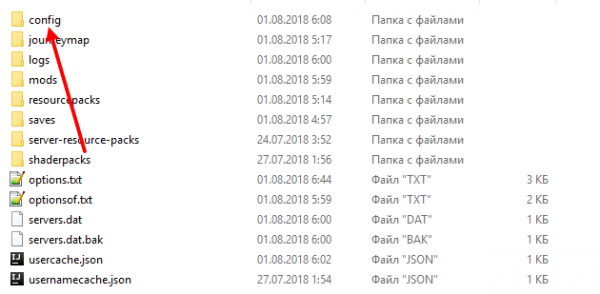 3. Create a folder andquot;Stackupandquot;, and in it a file with the extension .Stackup (for example: alls.Stackup) .

Changing the glass1. Return to the folder andquot;Configandquot;, And open the file andquot;Stackup.CFGandquot; Using a notebook or notepad++.

2. In line andquot;I: maxstacksize = 64andquot; change the value to your.

3. In line andquot;I: fontscalelevel = – 2andquot; Change value by 3 (without minus). Do not forget to save the file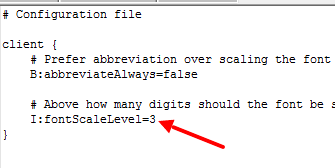 4. Return to the folder that we created andquot;Stackupandquot;, Go to the file that you created using a notebook or NOTEPAD++, To introduce one there andquot;Sizeandgt;= 48, size 127andquot;. Then, in the game, enter the command '/Stackup Reload', now Stock 99 instead of 64.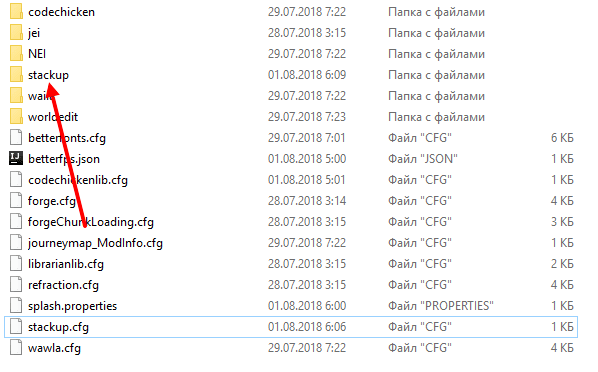 More details about setting up this file here – – andgt; Link Installation
1) Install Minecraft Forge.
2) Download the mod from the links below.
3) Place the downloaded jar or zip file in the folder .Minecraft/Mods.
Full address of the folder:
C:/Users/User/Appdata/Roaming/.Minecraft/Mods
How to find an Appdata folder?
Download mod stackup!
Yu1.12.2]: Stackup – 0.2.5.jar [91.64 kb]
For version 1.13 must be installed Rift! (Forge is not required)
Yu1.13]: Stackup – 0.3.1 – RIFT.jar [68.5 kb]