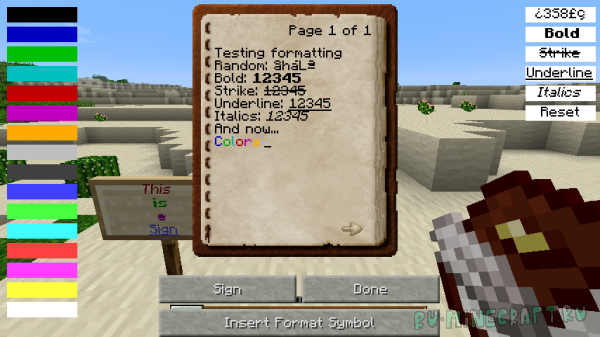 Maud Text formatting adds to Minecraft the ability to change signs, books and command blocks, in addition, adding the ability to change the color of the written! Yes Yes! And much more!
Video:
Installing Moda Text Formatting
1) Install Minecraft Forge.
2) Download the mod from the links below.
3) Place the downloaded jar or zip file in the folder .Minecraft/Mods.
Full address of the folder: c:/users/user/Appdata/Roaming/.Minecraft/Mods
How to find an Appdata folder?
Download mod Text Formatting:
1.6.4: 1.6.4 – Text – formatting – 2.2.1.jar [28.58 kb]
1.7.10: 1.7.10 – Text_Formatting – 2.2.3.jar [24.3 kb]
1.8: 1.8 – Text_Formatting – 2.3.0.jar [28.91 kb]