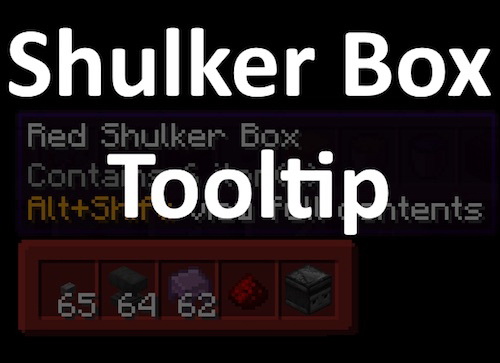 Shulkerboxtooltip – A mod capable of making it possible to view the contents of a Shalker box directly in the inventory. To activate viewing mode, you need to press the Shift key and put the cursor to the desired Shalker Box. The key can be changed if it is inconvenient to the player.
Other functions:
1. Full viewing. "Alt + Shift" – activates the full viewing of objects inside any storage facilities. By the way, the author of the fashion made convenient sorting so that it could easily evaluate the contents of the storage.
2. View other storage facilities. The mod works not only with Shalker Box, but also with chests and other storage facilities.
3. Fashion configuration. The mod has its own built – in settings that will help you change these or other fashion functions.
Screenshots
How to install Shulkerboxtoooltip?
Install Fabric
Press Win+R (Win button is between Ctrl and Alt)
In the window that appears, write %Appdata %
Go to .Minecraft/mods (if there are no "Mods" folders, then create)
Drag the mod (.zip/.jar) in the Mods folder
Download shulkerboxtooltip
For Minecraft 1.18.2 days 1.18.1d Minecraft 1.17.1