Viaforge mod for Minecraft 1.7, 1.8, 1.12, 1.14, 1.16.5 – This is a truly unique mod for cheats, which will allow you to play from any che – fashion on any versions of the game. You, like many other players, most likely faced this problem: there are almost no cheats on new versions of the game, or there are those that you do not like. In this article, we will analyze what kind of mod, how it works and with what cheats it can be combined.
What is it for mod?
This is the first question that you have. This is a simple mod that performs only one function – adds the tab Viaforge in the main menu of the game. The tab appears either in the section of the network game, or right in the main menu. This mod covers almost all the versions of the game, starting from 1.7 ending the not yet released version 1.17. In the screenshot you can see how this tab looks and which versions can be selected.
It is worth noting that the mod works on two versions of Forge – 1.8.9 and 1.12.2.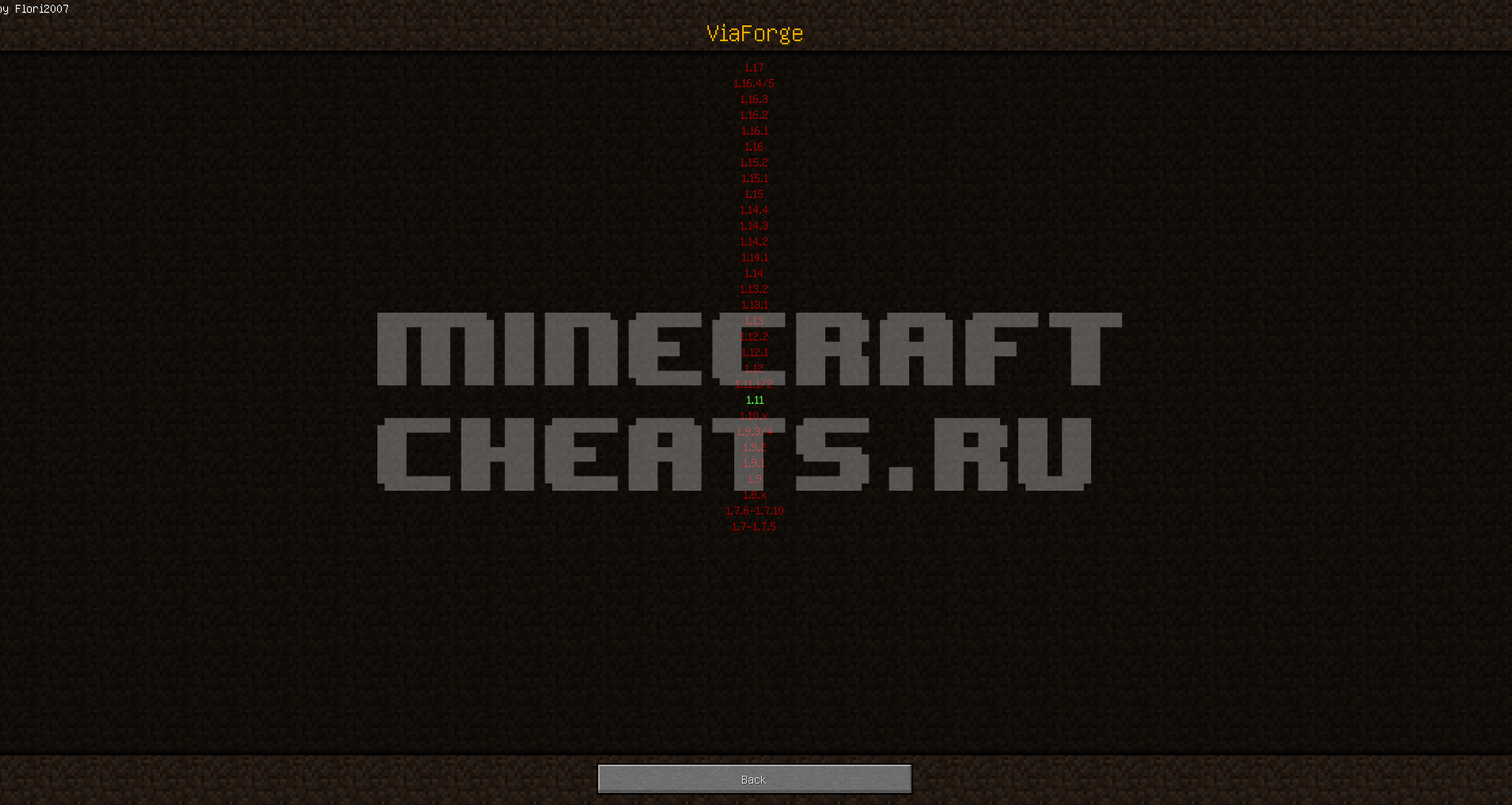 Compatibility with cheats
Here we will analyze and tell you what cheats you can play using this mod. Note that there will be not the entire list of cheats, since the list of customers who work on Forge is very large. The first client is worth paying attention to – Liquid Bounce. Many players believe that this is the best cheat, and these are not just words. He earned respect with excellent bypasses, many functions and additional opportunities. But in this Cheat there is a big minus – it only goes on version 1.8.9 and 1.12.2. The mod we are talking about will correct this problem. Liquid is compatible with Viaforge, so now you can play from it on absolutely any servers. Viaforge tab will appear in the network game section. We will not write about other customers in such detail, but just make a list of the most popular cheat mods:
Ares – compatible. The tab with a change of versions is in the section of the network game;
Salhack – compatible. Great cheat for 2B2T servers, which is well hidden from antitheism.
Kami Blue – Compatible. This is a client with good bypasses of AAC and NCP anti.
Summit – also compatible with the mod, and the Viaforge tab is located both in the main menu and in the network game section.
If you have not found your cheat – fashion in this list, then do not be discouraged. There is a high probability that he will also work on any version of the game, since all the cheats that we checked were compatible with this mod.
How to install ViaForge mod on Minecraft 1.7, 1.8, 1.12, 1.14, 1.16.5:
1. Install Forge 1.12.2 or 1.8.9 in your launcher or from an official site;
2. Download and unpack the fashion file;
3. If you have an open Minecraft, it must be closed;
4. Click Start, In the search bar, enter %Appdata %/.Minecraft/mods;
5. If you do not have such a folder, then you need to start the Forge version 1 time and it will appear;
6. Transfer the downloaded .jar files in the Mods folder;
7. Go to the game with the installed version of Forge.
Download the Viaforge mod for Minecraft 1.7, 1.8, 1.12, 1.14, 1.16.5