YouTuber Blocks – A very interesting mod that will add famous video bloggers to your game. At the moment, only Western bloggers are present in fashion, but, I think, soon they will add our, domestic.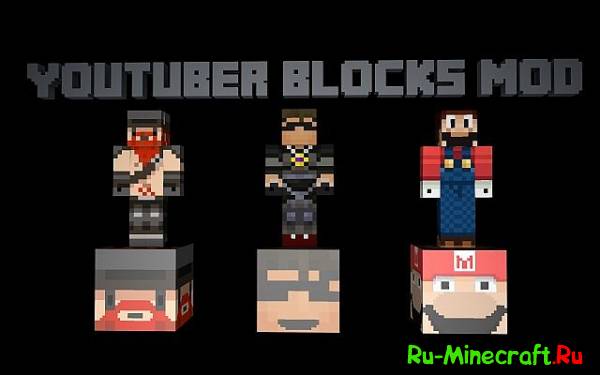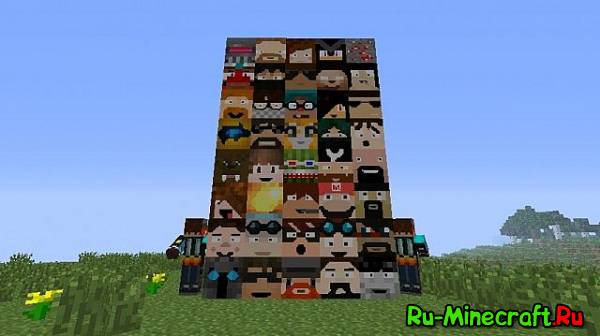 1. First we need to find a special ore, which is located around the world, underground. For one blogger, we need 8 pieces of this ore.
2. After we must melt this ore in the stove to get a special item.
3. And then we must lay out a melted ore around any object.
Popularmmos: Diamond Block
SkyDoESMINECRAFT: Gold Block
Yogscast Simon: Cookie
Yogscast Lewis: Book
Yogscast Sips: Dirt
Yogscast Sjin: Diamond Hoe
Yogscast Duncan: Piston
Munchingbrotato: Potato
TheDiamondminecart: Minecart
Captainsparklez: Nether Star
Deadlox: Bone
Minecraftuniverse: Raw Porkchop
Videomkerguy: Diamond Pickaxe
Sethbling: Redstone Block
Antvenom: Spider eye
Asfjerome: Wool
Bajancanadian: Bow
Bashu [r: Melon
Cavemanfilms: Stone
NOTCH: Golden Apple
SARC: Redstone Repeater
Ssundee: Iron Sword
Stampy: Bucket of Milk
Thnxcya: Note Block
Tobuscus: Diamond Sword
Dartron: Diamond Chestplate
TCTNGAMING: Blaze Powder
Chimneyswift: Bricks
Zexyzek: Tnt
Boil40: Leaves
PAUSEUNPAUSE: Boat
Hypixel: Stone Bricks
Aviatorgaming: GunPowder
Noahcraftftw: Flint and Steel
Gizzy14gazza: Raw Beef
Bebopvox: Diamond
Seananners: Bucket of Water
Ihascupquake: CAKE
Jackertud: Item Frame
Yogscast Martyn: Sapling
Annoying Orange: Apple
Iballisticsquid: Ink SAC
Actennisac: Redstone Torch
Etho: Rotten Flesh
Dragonz: Redstone
Lancepooh: Iron Pickaxe
Scmowns: Steak
Supergirlygamer: Lava Bucket
Gold Solace: Gold Ingot
Theatlanticcraft: Water Bottle
Ashley Mariee: Snowball
Aureylian: Pink DYE
Bigbadmanpig: Cooky porkchop
Bluebayou: Lapis
Bluemonkey: Blue Wool
Craftygarrett: Crafting Table
DireWolf20: Compass
Explodingt: TNT MINECART
Game Chap: Glass Pane
Generikb: String
Ghostgaming: Ghast Tear
Guude: CAT
Hat Films: Golden Helmet
Itsjerryandharry: Lever
KERMITPLAYSMC: Cactus
Littlelizardgaming: Green Wool
Logdotzip: Cobblestone
Markiplier: Torch
Paulsoaresjr: Iron Ore
Setosorcerer: Magma Cream
Sevadus: Paper
SLAMACOW: Stained Hardened Clay
Subzeroextabyte: Stained Glass
Syndicate: Wooden Sword
TheCapingRusher: Wooden Planks
TheminingMovies: Diamond Ore
Thinknoodles: Stick
Weedlion: Reeds
Wipper178: White Wool
Woofless: Cookies
XRPMX13: Arrow

How to install YouTuber Blocks mod:
Install Minecraft Forge for your version of Minecraft.
Download the mod and place the file at: C: \ Users \ Your user PC \ Appdata \ Roaming \.Minecraft \ Mods
Open the launcher Minecraft and select in the profile version of Minecraft with Fordzh.
How to find an Appdata folder?

Download modber blacks:
1.6.4: YouTuber – Blocks – 1.6.4.zip [82.22 KB]
1.7.2E1.7.10: YouTuber – Blocks – 1.7.2 – 1.7.10.RAR [711.04 KB]