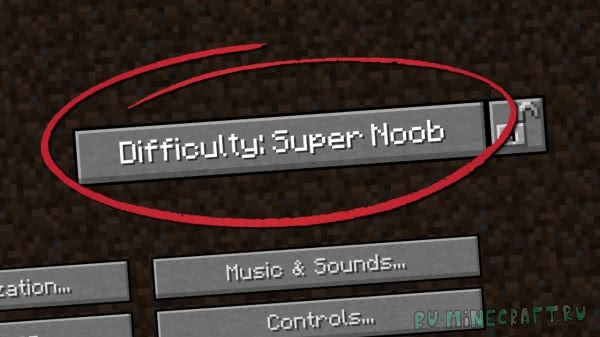 Team Noob Difficulty – It will change some things in your game by making it much easier and easier, if you want to make Minecraft more simple, for example, for a younger brother or sister, then this team will facilitate the game quite much without the need to install mods.
As for me – the idea is excellent, though the author should still reduce the damage from the fall, give the opportunity to swim under water longer and return things after death.
After activating the team you have Will not appear new difficulty in the game settings, just play.
What will this team do:
1) wood blocks will break yourself, just come and look at them.
2) 4 boards in your hands will automatically turn into a workbench.
3) an empty stove will be filled with coal if you climb it.
4) mobs will die if you approach them with a sword in their hands.
5) crops grow almost instantly.
6) if you take a stone chirka in the hand – they will break the stone and gravel in large pieces, just approach the wall, moreover, all minerals will remain.
7) The trolley will go without an electric rail in the direction of the gaze, you can change the direction of the trip.
8) if you climb on the table for enchanting, you will be given 100 levels of experience.
9) if you print Nether Portal on the plate and put it, the portal will appear in hell.
10) while in lava you restore health.
11) falling into the void of the region, you will return to the ground.
Demonstration:
Installation of the Noob Difficulti command:
1) download the file with the command, open (notebook), there will be a bunch of code inside.
2) Copy the entire command code from the file (ctrl+a (select the entire text) – andgt; Ctrl+C (copy))
3) Turn on the game and get the command unit by introducing in chat /give @p command_block, or take it through jei
4) Put the command block on the ground (only in creative)
5) click on it with the right mouse button and insert the command into the field andquot;Console teamandquot; Click (Ctrl+V)
6) Click Done (Done)
7) Activate the command block with a button or lever.
Just play, there will be no difficulty in the game settings.
Download the Noob Difficulti command:
1.12 \ 1.12.1 \ 1.12.2: Noob – Difficulty.txt [26.57 kb]