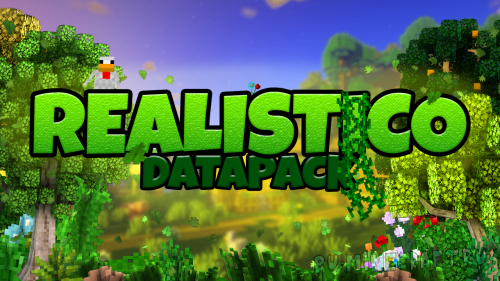 Datapac Realistico 2.0 adds to Minecraft new pleasant realistic little things! You have been playing vanilla Minecraft for a long time and you want to add a little realism?
Datapac developed Bigsty and you can see a review of functions from the author of Datapac himself.
The functions that PAK adds:
All food that can be planted in the bed can be landed by herself if it is simply thrown out onto the garden.
Sprouts of trees, fungi, growth can similarly andquot;Plantandquot; If you throw it.
From the chicken eggs lying on the ground, a chicken can be hatched
After sleep, you will get a little health regeneration.
When going out into the web, you will break it.
If you stand on the torches, or a stone, you will receive damage. But you can stand calmly on the redstone torches
When you are next to bats, you will get the effect of poisoning
An arrow launched from a bow, you can break the glass (with some chance)
You will fail in the foliage of trees
If the turtle eggs are lying on the ground for a long time
Passing through high grass, reed you will slow down, and roses will be damaged.
If you stand on a jug, then after a while it will break.
Unfortunately, there is also a feature bug, if you stand on a stone for a long time, it will cut you too much effects that cannot be removed with milk.
Installation instructions
Download the file
Choose a world in which you want to set a date – pack, and clickandquot;Tuneandquot;
Click andquot;Open the World folderandquot;
Open the folder andquot;Datapacksandquot; and copy the archive with Datapac in it
In the game in the chat, enter the team /Reload and then /Trigger Flame
Download Datapac Realistico 2.0:
1.16.X: Realistico.zip [7.31 kb]