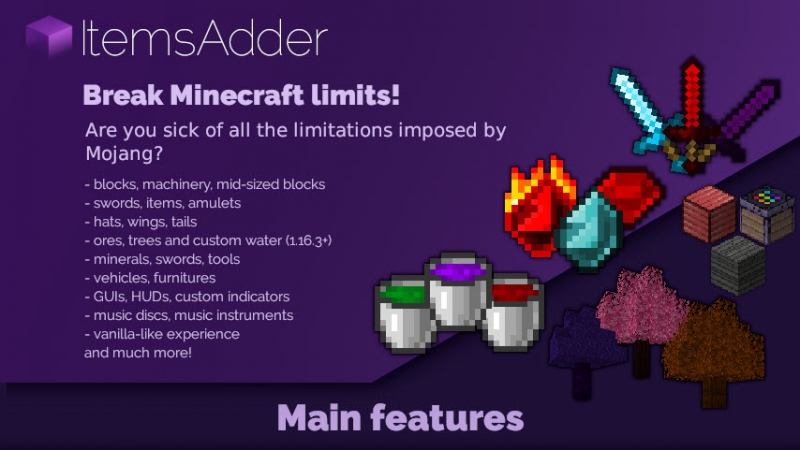 Itemsadder – This is an incredible spigot plugin that adds a huge number of opportunities for your Minecraft server. This is a paid plugin, but if you have a server, then its purchase can be justified due to the qualitative implementation of many functions, such as custom objects, Hud – s, GUI, Mobs, 3D Models, Emoji, Blocks, Wings, Hats, Liquid.
The plugin is incredibly flexible, a huge number of settings, you can create different custom items, new food, weapons and tools, unique blocks, give the player wings or vehicles, emoji, unique trees and new ores, create new mobs. Also, the plugin already has 500+ new blocks, objects and armor, they are already created, configured and ready to use.
The plugin has more than 50 additions, each complements some kind of functionality, adds more trees or emoji, custom menu and new interfaces.
Functions:
500+ already finished items.
15 items for different events
Protection against unpacking resourcepack, stealing texture will be extremely difficult.
540+ ready – made emoji.
Realistic and non – lagging machines, planes.
Realistic unique blocks with World Edit support
Add triggers, teams, events for user items, blocks, vehicles, hats, etc.
Cash sounds.
Strength bar as ordinary objects Minecraft.
Stags of objects without lags and glitches.
Many settings for each function.
Support for melting recipes, craft with custom items.
User tools that can lose strength when used in a workbench, such as a knife for cleaning potatoes.
Realistic behavior by the fire
Cash Logo loading (only with Optifine installed)
The ability to translate the plugin into another language.
Armor, weapons, tools.
Blocks, fittings, shopping facilities.
Food, drinks, potions.
Rudes with generation in the world.
Mobs.
Much more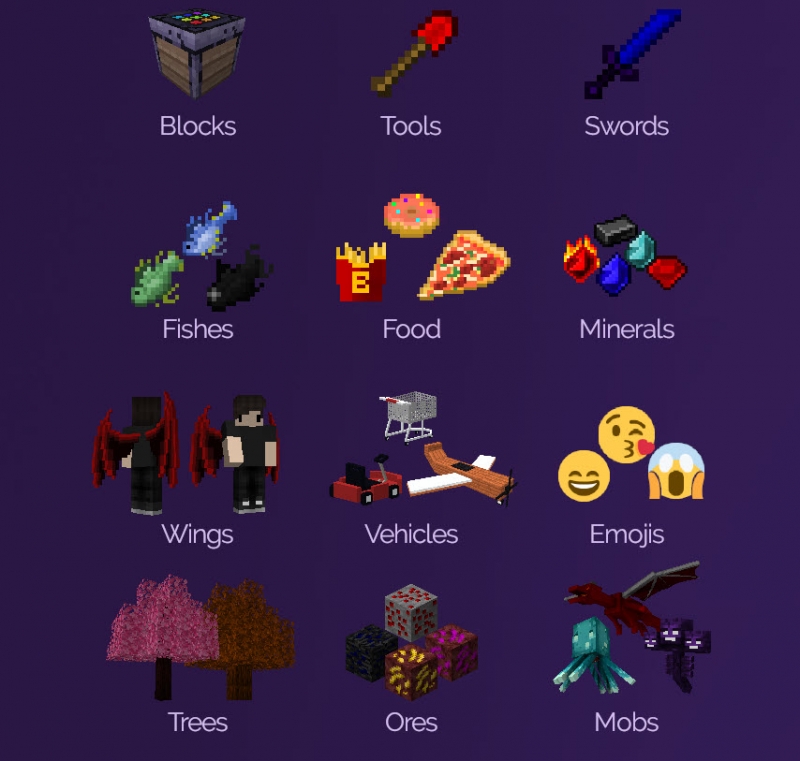 More demonstrations and descriptions on the official page of the plugin.
How to install a plugin:
The installed Spigot is required
Study the installation guide, there are the required additional libraries.
Copy plugin into the plugin folder
Download ITEMSADDER plugin:
1.14.4 – 1.17.1+:
Buy on an official page
price at the moment 17 euros
Look for a cart.ru in a telegram
You can spire there