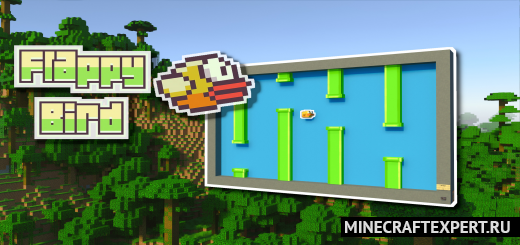 This is the reincarnation of the great game Fluppy Bird in Minecraft. Now you can fully play this game right in your world. Use a special team to make a game screen. This is a rather complicated mobile game, where you need to fly through obstacles with a small bird, the more obstacles you have been overcome, the more your account.
Team "!Create " – creates a game display with a game where you can manage a bird using a special item.
Team ""!Stop " – stops the game and deleys the screen. Use if there are any errors.
Screenshots
How to install Flappy Bird?
Download the mod
Open it using Minecraft
Activate the set in the settings of the world
Turn on the "experimental gameplay" in the settings of the world
Ready

Turn on the Holid Creator and the Gametest platform
Download mod Flappy Bird