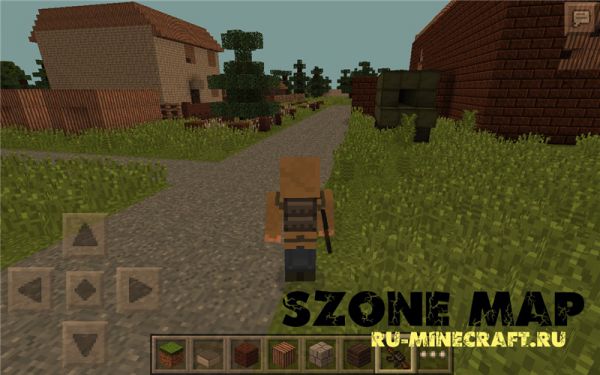 So, I made a card on MCPE (which are few) and, of course, decided to share it with you. The card is made specifically for the texturedpack that goes inside with the archive, it turned out all this pretty beautifully, you can make sure you look at the screenshots or downloading it to your Android device.
Description of this card:
This card as I already said in a briefly made by the Szone – Online game and copies, let it not completely, Lyubech – 1 location (who played he will understand) We start at the station, 3 five – story buildings, a village, abandoned children, a manual of 3 five – story buildings.garden, military warehouse, other buildings. This card will also be appreciated by stalker lovers.
Screenshots:
I also want to assure you that I will continue to make cards on MC Pocket Edition, since there are quite few mods and cards on this site for a pocket favorite game, so wait more! 😉
That's all, do not forget to evaluate and comment, there was Amircrafter with you while while!)
Well, I hope I deserve a small offtop, if you want to help me, then read it if you are negative about andquot;advertisingandquot; Although this is not an advertisement, just don't read)
And finally download from Yandexdisk!
Szone – by – amricrafter.RAR [3.43 MB]
Yandexdis
Offtop:
So they decided to help) means the essence of the question is what (who doesn't sit on Instance can not read) with a friend (he is also sitting on this site), we argued that until the end of the next week I will dial 155 subscriptions in Institute, if you are there and thereYou are not sorry to subscribe to yet an empty inste, let's help you get a dispute) here is Instagram Instagram , Thanks in advance and sorry for the offtop (well, which of us did not argue);)