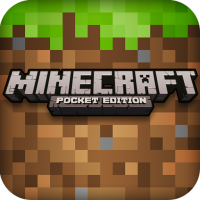 Innovations:
Blocks and objects:
Bucket.
Will be available in Creative mode (including lava and water).
Milk.
Cake
Will be available as an object and as a block. In the set state, it can be eaten.
Eggs.
Chicken will drop eggs, as on PC.
Fire.
Multiplayer:
Online multiplayer.
It is implemented as Pocket Realms, part of the upcoming Minecraft Realms features.
Initially, there will be several beta testers who will try to develop the system for free before it is released for the public.
Nicky in the multiplayer.
Will require a free Mojang account.
Buying one server will be available in the built – in purchases Amazon.
Chat in multiplayer.
Chat button in the upper right corner (Android), next to the pause button (iOS).
Changes:
New interface (GUI).
New main menu with sections: andquot;Playandquot;, andquot;Play Realmsandquot;, andquot;Settingsandquot;.
In chapter andquot;Playandquot; You can play in your world locally.
In chapter andquot;Online gameandquot; You can play online by creating or joining the Pocket Realms server (you must be invited to join the server).
Chapter andquot;Settingsandquot; divided into 4 subsections.
A game.
Game name, complexity, view from the 3rd person, the size of the gamepad and the local server.
Control.
Sensitivity, inverting y – Osi, left – handed, sensory mode, control split, vibration during the destruction of the unit.
Graphic arts.
Drawing range, beautiful graphics, beautiful clouds, animated water, experimental graphics (smooth lighting).
Sound
Volume.
Corrections:
Fixed incorrect display of dyes in the hands.
Fixed water animation on iOS systems.
Fixed the indestructibility of onions after the last strong shot.
Fixed the impossibility of entering grain on T – Mobile G2.
Fixed incorrect torch placement.
Duplication of door duplication during destruction.
Fixed the release of the game when destroying paintings using TNT.
Fixed incorrect display of grain input fields.
Screenshots: