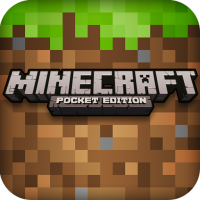 Changes:
Blocks:
The sheaf of the hay
Carpet
A wall of cobblestones
Jack lamp
Iron lattice
Pumpkin
Coal block
Rails
Electric rails
Sponge
Ice
Tropical wood boards.
Marshmallow
Snow
Bedrock
Web
Dry bush
High grass and fern
Items:
Red dust
Compass
Watch
Logs
Beet seeds
Pumpkin seeds
Food:
Pumpkin pie
Carrot
Potato
Beet
Beet soup
Other
Color boards
Fiery in Creative mode
Environment:
Wood can be installed on the side.
New color of grass.
Fire and lava set fire to TNT.
The sky became lighter.
Foliage uses Mipmapping
The sea becomes opaque in the distance
Mipmapping (only on iOS) and anisotropic filtering
3D clouds
Dynamic lighting of mobs and player
Lighting blocks from the side on which the lighting of the sun is coming
Shadows from the player, mobs and fallen objects
Textures from PC version of the game are taken
Mobs:
Mobs can now multiply
AI mobs now like in a PC version
Mobs can be put in trolleys
Animals can be lured with wheat and vegetables
Interface:
New inventory in creativity mode
Transparent hotbar
Inventory can be closed with the button […]
In the workbench, all possible crafts move up
Bugs:
The chat does not work.
With a small drawing, it is clear that the elements are distorted in the distance.
Glass is not displayed in the distance.
The commands are not added.
Cacti germinate next to blocks.
Water does not destroy the web.
Visual doubling of objects in the inventory (example: 16 carrots we see in the inventory, but in fact carrots 8).
Screenshots: