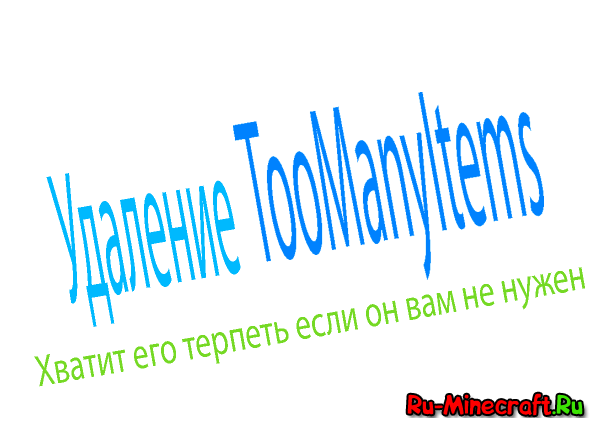 Surely most Minecraft with a heap of mods and toomanyitems. Who downloads such customers from the site, who collects but does not want to delete, for the sake of getting rid of toomanyitems. I will tell you how to delete toomanyitems from Minecraft. To do this, we need to open Minecraft.jar that lies in C:/Users/%User Name%/Appdata/Roaming/.Minecraft/Bin or C:/Documents and Settings/%User Name%/Application Data/.Minecraft/bin on xp. And delete the following files:
TMIVIEW.Class
TMIUTILS.Class
TMISTEBUTTONDATA.Class
TMIPLAYERCONTROLLERSSP.Class
TMIPLAYERCONTROLLERCREATIVE.Class
TMIITEMInfo.Class
Tmicontroller.Class
Tmiconfig.Class
TMICOPATIBILITY.Class
TMI.PNG
Parsetest.Class
Mod_toomanyitems.Class
GB.Class
_TMI_MGZORDER.Class
_TMI_MGWIDGET.Class
_TMI_MGTOOLTIPHANDER.Class
_TMI_MGRANGESET.Class
_TMI_MGITEMPANEL.Class
_TMI_MGITEMHANDLER.Class
_TMI_MGIMAGE.Class
_TMI_MGCANVAS.Class
_TMI_MGBUTONHANDER.Class
_TMI_MGBUTON.Class.
Next, throw the downloaded file into Minecraft.jar and that's it, we deleted Tomanyitems from Minecraft
Download file
GB.zip [2.91 kb]