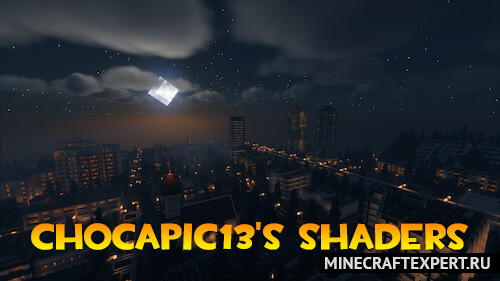 Chocapic13 Shaders significantly improve the graphics of the game Minecraft. As the name implies, its main function is the adding of dynamic shadows (Shaders in English), pleasant effects of wind on the leaves, realistic sunlight and water, and adding volume to textures and reflection. Shaders have several different versions, for powerful and not very computers.
Peculiarities
Adding volume to textures and reflection using "Parallax OcClusion Mapping"
BumpMap is a less demanding option for creating volume
Realistic weather effects and
Natural water and lava
Support for all current versions of the game
Screenshots
How to install Chocapic13 Shaders?
Minecraft 1.16.5 – 1.8.I
Install Optifine HD
Download the archive (.zip) and place in the folder .Minecraft/Shaderpacks
Launch the game, go to the settings andgt; Graphic settings andgt; Shaders
Select the shaderpak and click "Ready"
Minecraft 1.8 – 1.7.10
Install Minecraft Forge
Install Optifine HD
Install Shaders mod
Download the archive (.zip) and place in the folder .Minecraft/Shaderpacks
Launch the game, go to the settings andgt; Shaders
Select the shaderpak and click "Done"
Download Chocapic13 Shaders