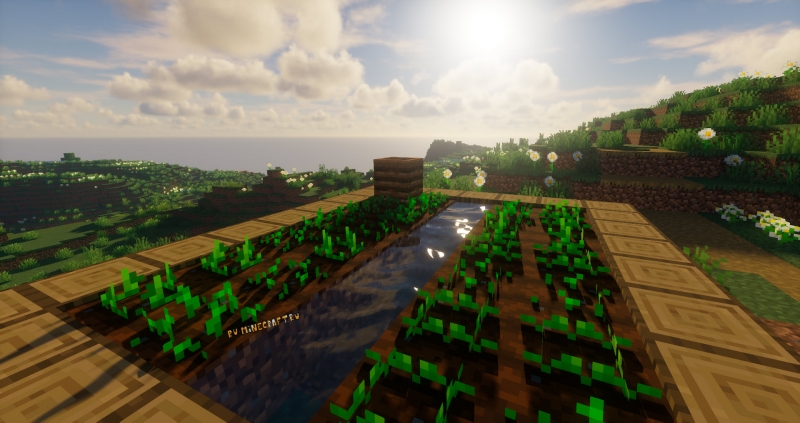 Shader Kappa Shader – A very interesting and unique project from RRE36, Shader has an impressive amount of graphic effects, creates a realistic and quite beautiful graphics, knows how to work with POM and PBR textures, has excellent water and much more, of course, you need a relatively powerful video card to work.
Due to the many interesting technologies, Shader makes a very beautiful and realistic dynamic picture, although not everything works perfectly, and not everyone will like the overall picture, but there are also bugs. At the moment, some effect, personally in my opinion, are not in the best way. Personally, I liked the shader, but my friend is not at all, because he, of course.
I would like to highlight beautiful and realistic water, global lighting + dynamic clouds, so if the cloud closes the sun or moon, this affects lighting in the world. The cool rain effect, while the blocks get wet, reflect light, in general, the reflection of light works quite competently from the point of view of physics, but has many bugs at the moment.
Schider's advantages:
Realistic, pleasant, correct picture.
Good performance.
POM and PBR support, many settings.
A huge number of supported graphic effects affecting the picture.
Great water, cool clouds, cool rain.
Smooth weather change, after the start of the rain, the sky smoothly and realistically extended by clouds.
Very suitable time shift, sunsets and dawn, night and day.
The disadvantages of Shader:
Bugs are present, especially underground, there are artifacts and incomprehensible glow.
As for me, insufficient darkness underground.
Light sources are very bright, even blinding.
Wet land, blocks reflect the light too much, and in snowy biomes the snow should not be wet.
Shader has a general effect andquot;Smokes, washingandquot;, that not everyone will like it, it can be reduced or disabled in the settings.
Probably not full shadows in the corners of the blocks, especially this is noticeable on the mountains, most likely a reckoning for global lighting and optimization.
The effect of granularity of light rays.
Personally, I liked the shader, you need to get used to it a little, and after he leaves a positive impression. It also has several modes and looks good even in Low mode. Perhaps the author will fix most of the annoying bugs with glare and phantom glow underground and this will be a very suitable shader.
The performance of the game on my PC:
Computer: i5 3570 8GB RAM + GeForce GTX670.
When playing with the shadeers, the main load falls on the video card, I have this GeForce GTX 670 2GB, you can compare the performance of your card with mine on the testing website. My card is gaining about 5341 points, find your own and estimate. It is also worth understanding that some shaders can poorly support AMD cards, because you can have a lot of points in the ranking, but a bad FPS with Shader.
Minecraft 1.18.2 with Optifine H7, drawing 12 cups: ~ 200 fps
Shader version V4.2:
Low ~ 40 – 45 frames.
Medium ~ 35 – 40 frames.
High ~ 30 – 35 frames.
Ultra ~ 25 – 35 frames.
Extreme ~ 20 – 25 frames.
Comparison of versions: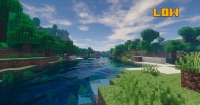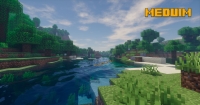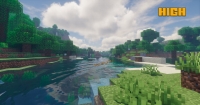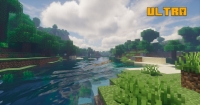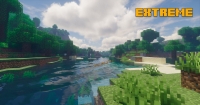 Screenshots: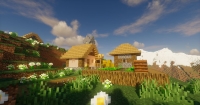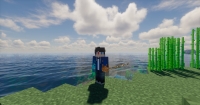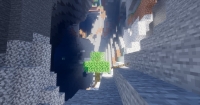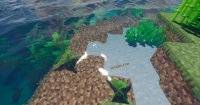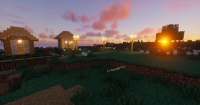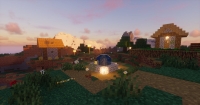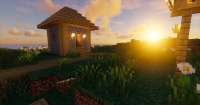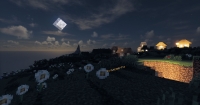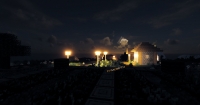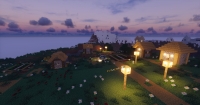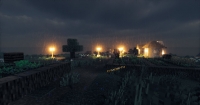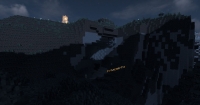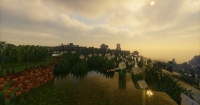 How to install a shader:
Instifine set
Download Shader
Copy in .Minecraft/Shaderpacks
If there is no Shaderpacks folders, create yourself.
Most shaaders have settings, the quality of the graphics is changing there
In the launcher, launch the version of the game with optical.
Detailed installation instructions
Download Shader Kappa Shader:
1.12.2 – 1.19.4+: kappa_v4.2.zip [3.73 mb]
Low, Medium, Ultra modes change in Shader settings